Until now, the German company Steiner has offered the Ranger 4 and the Ranger BC series in its hunting product lineup. The proven riflescopes of the Ranger 4 line are currently available in 1-4x24, 2-8x42, 2.5-10x50 and with 56 mm lens in the 3-12 magnification range, as well as 4-16. The BC (Ballistic Control) versions are available in 3-12x56 and 4-16x56. All these models have one thing in common: the fourfold magnification range. 
To expand its products range, Steiner is now launching the Ranger 6. The new models have a 6x zoom and thus extend the range of applications.
Video: We present the new Steiner ZF Ranger 6 in 3-18x56
This video has been hidden because of an external service (YouTube) that could potentially collect personal data.Allow video services for the duration of the visitAllow video servicesStop allowing video services
Features of the new Ranger 6 riflescope series from Steiner

Despite the large zoom range, Steiner has succeeded in keeping the overall length of the optics particularly short. This is a great advantage when using a modern mount. The length of the optic combo thus remains acceptable, keeping the gun in the right position and the balance within the usual range. Especially because the weight of Steiner's new models is lower than that of comparable products.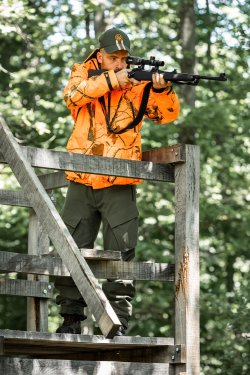 All riflescopes in the Ranger 6 series are equipped with high-contrast ED glass. Steiner's own development ensures that wild game stands out even more clearly from its surroundings. This makes safe recognizing and shooting easier. The large field of view (40.75 m at 100 m for the Ranger 6 1-6x24) is also a help – to maintain a good overview. The image looks natural, thanks to the high edge-to-edge sharpness and improved contrast that is customary with Steiner. When it is dark, light transmission of at least 92% helps the hunter to keep everything in view. For a safe shot in poor visibility conditions, the clearly defined and precise illuminated dot, thanks to Fiber Dot technology, ensures the necessary accuracy. Compared to the Ranger 4 series, this has also been improved once again and is now brighter and sharper.
As with Steiner's tactical series, the manufacturer attaches particular importance to optics ruggedness. Among other things, the scopes are factory hard-anodized according to military standards.

The new Ranger 6 also stands out in terms of operation: Steiner has integrated the ZeroMode technology into the series for long-range shots. Once the hunter has adjusted the reticle to the shooting distance, the turret of the height control can always be reliably turned back to 0 with repeatable accuracy. As with all Steiner riflescopes tested to date, the adjustment is both audible and tactile. This feedback allows the reticle to be adjusted with particular precision. Both scopes come with the 4A-I reticle.

At a glance: prices and specs for the new Steiner Ranger 6

| | | |
| --- | --- | --- |
| Model: | Ranger 6 1-6x24 | Ranger 6 3-18x56 |
| Price: | 1499 euro | 1649 euro |
| Reticle: | 4A-I | 4A-I |
| Effective lens diameter: | 24 mm | 56 mm |
| Light transmission: | 92% | 92% |
| Magnification min/max: | 1-6x | 3-18x |
| Weight: | 17.28 oz/490 g | 26.59 oz/754 g |
| Length: | 10.55"/268 mm | 13.30"/338 mm |
| Operating Temperature Range: | -25° to +65°C | -25° to +65°C |
| Exit Pupil: | 10.45 - 4.35 mm | 10.0 - 3.8 mm |
| Field of View at 100 m: | 45.75 - 7.0 m | 14.05 - 2.41 m |
| Eye Relief: | 90 mm | 90 mm |
| Diopter Adjustment: | -3 to +2 | -3 to +2 |
| Parallax Adjustment: | 100 m | 50 m to infinity |
| Reticle Position: | 2nd image plane  | 2nd image plane |
| Reticle Adjustment per Click at 100 m: | 1 cm | 1 cm |
| Max. Adjustment at 100 m Elevation/Windage: | 300 cm / 300 cm | 190 cm / 190 cm |
| Water Pressure Proof: | up to 2 m | up to 2 m |
| Nitrogen Filling: | Yes  | Yes |
The Ranger 6 models will be available from autumn 2020

The Ranger 6 1-6x24 driven-hunt scope and the 3-18x56 universal scope are available for launch. The former is not only perfectly suited for driven hunts due to its wide field of view and the associated fast target acquisition. Its rugged construction also makes it the ideal companion for big game. The 3-18x56 on the other hand covers a wide range of hunting types: hunting from a raised hide by day and night, as well as stalking. Due to its low weight, in combination with a light rifle, there is nothing to stand in the way of longer hunts. According to Steiner, both optics are to be unsurpassed in their price range in terms of features and quality.

Where can I already buy the new Ranger 6 from Steiner?

During the first 14 days (from October 18th, 2020) both versions of the Ranger 6 can be ordered exclusively from Frankonia. After that, both models will be available at well-stocked specialist shops. The Ranger 6 1-6x24 comes to hunters for 1499 euro, while the 3-18x56 model changes hands for 1649 euro. We are already looking forward to the first practical test.