The  Kahles  Helia RD compact reflex sight is especially designed for driven hunts. With a unique anti-reflection coating for undisturbed visibility and a precise 2-MOA red point, which is suitable for the usual shooting ranges of about 15 to 50 meters, but also, depending on the size of the target, up to 100 meters and beyond. The 2 MOA (5.8 cm/100 meters) red dot is perfectly round, at least if the illumination is not set too bright.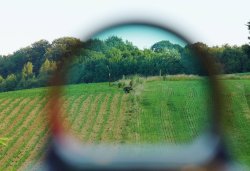 As with any other red dot sight, if a too high brightness level is selected, the dot will bleed, appearing larger and fringed. For fast shooting at close ranges, a not perfectly round dot, as often seen with cheap brands, is not a problem. But at 100 meters, such an unclean dot becomes fuzzy and accurate aiming becomes difficult. Of course there are also illuminated dot sights with 3 MOA or 4 MOA dot size. This diameter of up to 11.6 cm/100 meters results in a very clear dot of almost 6 cm at a distance of 50 meters. But at twice that distance, especially with a small target, too much target area can be covered by the illuminated dot. So if you want to shoot with a reflex sight also at 100 meters and beyond, you might be better off with a fine 2-MOA dot. At close range, a higher light intensity can be set so that the dot appears brighter and larger and, purely visually, 2 MOA becomes 3 MOA. It is worthwhile to experiment a little here.
The illumination of the Kahles Helia RD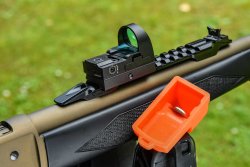 The anti-reflection coating ensures high image quality without disturbing reflections over the entire field of view. The red dot in the middle of the crosshair can be manually adjusted in 4 settings for different lighting conditions.
This may seem small, but it is quite sufficient for daytime use. The highest level is sufficient to quickly and safely aim at the target at 50 meters in bright sunshine. The automatic switch-off saves energy. When the gun is at rest, the illuminated dot switches off after 3 minutes. In standby mode, the illumination switches on again immediately after a slight vibration or movement. If you forget to switch off the illumination, the illuminated dot switches off after four hours. The battery (CR2032) lasts for a long time, but batteries have the ugly habit of running out of juice just when you need the device. The flashing of the illuminated dot warns in advance. A spare battery can be stored in the signal colored protective cover. The battery can be changed when the Helia RD is mounted. But you need a screwdriver or similar object, because the battery holder is really tight. A thumbnail is unfortunately not enough.
How the Helia RD can be adjusted
For precise adjustment or sighting in, the Kahles Helia RD also has an easy-to-feel "Easyclick" adjustment mechanism.
The Helia RD features elevation and windage adjustment with line markings and clearly audible clicks. Each click adjusts the dot by 1.5 cm at 50 meters and 3 cm at 100 meters respectively. The repeat accuracy of the adjustment is very pleasing. The enormous range of adjustment of 400 cm in elevation and 250 cm in windage (138 MOA/96 MOA) is not required at the usual ranges at which a red dot sight is used. Our test sight even had an adjustment range of 166 clicks in elevation and 115 clicks in windage. At a distance of 100 meters this is an amazing 498 cm height adjustment and 345 cm side adjustment.
Mounting the Kahles Red Dot
Our 20018 model is equipped with a mount that fits on a Picatinny or Weaver rail. Its height is 5 mm. Together with the Helia RD housing (rear end), it is 17 mm. The overall height (from the bottom of the mount to top of the window) is 37 mm. When the red dot is set approximately in the middle, it is about 27 mm above the Picatinny rail of the gun. If you compare this with a 30 mm main tube riflescope and a height of 10 mm, you will see that when using a Picatinny rail there is no significant difference in height between a red dot sight and a riflescope with a 30 mm tube. Of course, the sight height should be adapted to personal requirements. However, it cannot be said in general that all red dot sights are mounted lower than riflescopes.
Kahles Helia RD specs

| | |
| --- | --- |
| Model: | Kahles Helia RD |
| Price: | 400 euro (price may vary in your country due to VAT and import duties) |
| Magnification: | 1.0 |
| Window: | 26 x 22 mm |
| Impact Correction / Click: | 15 mm / 50 mm |
| Adjustment Range E/W (m/100 m): | 4.0 / 2.5 |
| Length: | 55 mm |
| Weight: | 42 g |
| Red Dot Size: | 2 MOA |
| Brightness Adjustment (manual): | 4 steps |
| Battery Type: | CR2032 |
| Features: | Automatic switch-off, cover cap with spare battery slot and Picatinny/Weaver mount |
The Kahles Helia RD in practice

Operating the Helia RD is really easy. Press the plus button and the device switches on. Press the plus button again and the sight switches to the next higher illumination level. If less illumination intensity is desired, press the minus button. The unit is switched off by pressing the minus button for two seconds. Although the Helia RD is not waterproof – we could not find any manufacturer's specifications – we have used the Helia even in rain. It didn't rain very much, but the hydrophobic coating worked perfectly. The drops really roll off and the lens is not wet.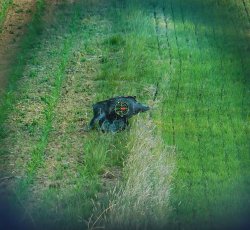 There are many factors that play a role in lightning fast target acquisition and first shot delivery, but first and foremost the shooter's routine and shooting skills, as well as an appropriate rifle stock. If, after getting into aiming position, one still has to look for the reflex sight red dot or the driven hunt riflescope reticle, the position of the rifle in the shoulder is wrong. With a consistent aiming and clean cheek contact with the buttstock, the feasible speed with a red dot sight and a driven hunt riflescope with 1x magnification should be almost identical, especially if the exit pupil features a sufficient diameter.
With the rifle at the hip as starting position, we were able to fire an aimed shot at a static target at 50 meters within two seconds after the start signal with both optics. However, in terms of leeway, exit pupil, eye relief and "eyebox", the red dot sight always wins and puts the scope in second place. The big advantage over a riflescope with a 1x magnification is the fact that you can aim and shoot with both eyes open. This gives you a gigantic field of view with improved peripheral perception and increased safety. If you aim through a riflescope with only one eye, you only receive the information that the field of view of the riflescope allows.
"We thought about launching a sight for driven hunting that offers features that others cannot offer" stated Josef Kampfer, head of PR & Communication Strategy at Kahles, in an interview at IWA 2019. And it's true. The anti-reflection coating ensures an excellent image. The clearly visible and perfectly round 2 MOA red dot does not cover too much of the wild game body and helps the hunter to capture his target perfectly. Side and height adjustments can be easily achieved with the supplied Allen key and are protected against unintentional adjustment when hunting. 
The side-mounted battery compartment eliminates the need to zero the gun after changing the battery. Which is not too often the case: the automatic switch-off turns the Kahles Helia RD to standby mode after 3 minutes and to complete switch-off after 4 hours. And should a battery change be necessary, a spare is always included. Kahles workmanship is beyond reproach and it cut a good figure in the test on a Pedersoli Boarbuster in .45-70 Gov't and a Browning BAR in .270 WSM.