The  KAHLES  Helia RD compact reflex sight is especially designed for driven hunt. With a unique anti-reflection coating for undisturbed visibility and a precise 2-MOA red point for a minimal target coverage, it's the ideal sight for intuitive shots.
The anti-reflection coating ensures high image quality without disturbing reflections over the entire field of view. The red dot in the middle of the crosshair can be manually adjusted in 4 settings for different lighting conditions. In addition, the automatic switch-off ensures energy-saving operation. For precise adjustment or sighting in, the KAHLES Helia RD also features an easy-to-feel "Easyclick" adjustment mechanism.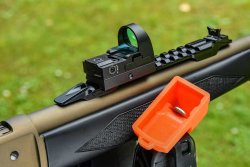 The robust and attractive design not only ensures simple operation, but also makes it easy to replace battery by opening the battery compartment on the side. In this way, the KAHLES MRDS does not have to be removed from the gun. This means there is no need to zero again – the risk of misalignment is virtually eliminated. Another good idea from KAHLES: a slot for a spare battery in the orange cap. This makes it easy to find the cap and battery in the heat of the moment. Also included is a Picatinny-Weaver mount or, alternatively, an adapter plate for common European red dot mounts. 
KAHLES Helia RD: technical data
| | |
| --- | --- |
| Model: | KAHLES Helia RD |
| Price: | 400 euro (price may vary in your country due to VAT and import duties) |
| Magnification: | 1.0 |
| Window: | 26 x 22 mm |
| Impact correction / click: | 15 mm / 50 mm |
| Adjustment range E/W (m/100 m): | 4.0 / 2.5 |
| Length: | 55 mm |
| Weight: | 42 g |
| Red dot size: | 2 MOA |
| Brightness adjustment (manual): | 4 steps |
| Battery type: | CR2032 |
| Features: | automatic switch-off, cover cap with spare battery slot and Picatinny/Weaver mount |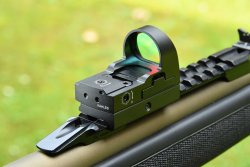 "We thought about launching a sight for driven hunting that offers features that others cannot offer" stated Josef Kampfer, head of PR & Communication Strategy at KAHLES, in an interview at IWA 2019. And it's true. The anti-reflection coating ensures an excellent image. The clearly visible 2 MOA red dot of does not cover too much of the wild game body and helps the hunter to capture his target perfectly. Side and height adjustments can be easily achieved with the supplied Allen key and are protected against unintentional adjustment when hunting. 
The side-mounted battery compartment eliminates the need to zero the gun after changing the battery. Which is not too often the case: the automatic switch-off turns the KAHLES Helia RD to standby mode after 3 minutes and to complete switch-off after 4 hours. And should a battery change be necessary, a spare is always included. KAHLES workmanship is beyond reproach and it cut a good figure in the test on a Pedersoli Boarbuster in .45-70 Gov't.