I've picked the GPO Spectra 5x 3-15x56i specifically for my type of hunting and it perfectly fits my new Weatherby MeatEater in .243 Win caliber. This scope with 30 mm tube gives me an advantage on my early and late hunting trips in low light levels – this is achieved by having higher magnification, a larger objective lens and a special lens coating system. 
The Spectra 5X 3-15x56i comes with a cleaning cloth, see-through flip cap ocular and objective lens scope covers, removable magnification throw lever, and CR2032 battery. 
The scope features a smart Illuminated German 4 Reticle and promises to take anyone's shooting and hunting experiences to a different level, offering accuracy, reliability and top quality performance in any hunting situations.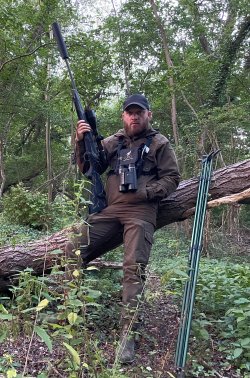 The large 56 mm objective lens transmits an incredible amount of light to your eye, while the 3-15X variable power range provides great magnification for close and long-range distances The iControl microdot illumination and shot placement on dark targets/silhouettes does make an unbelievable difference and boosts your confidence as a shooter. 

The GPO Spectra 5x 3-15x56i scope comes as a standard with DoubleHD objective lens technology and PASSIONtrac quick-zero reset turrets to assist your shooting scenario.
With GPObright lens coating light transmission can easily reach 92 percent, making the optical image of this riflescope bright, clear and sharp even in the lowest light conditions. 
iControl Illumination system assures that hunters always have a live battery by automatically powering down the illumination when the electronic module has been stationary for more than 3 hours, and alerts users when the battery has only 15 percent life. It also offers bright fiber optic technology.

The best bit about GPO products is that they all come with lifetime warranty and service. 
GPO Spectra 5x 3-15x56i technical specifications and price 
| | |
| --- | --- |
| Magnification: | 3x – 15x |
| Field of view (at 100 m): | 11-1-2.3 m |
| Objective Lens Diameter: | 56 mm |
| Exit Pupil: | 9.5-3.7 mm |
| Eye Relief: | 3.74"/95 mm |
| Adjustment per click at 100 m: | 1 cm |
| Elevation Adjustment Range (at 100 m): | 250 cm |
| Windage Adjustment Range (at 100 m): | 250 cm |
| Parallax Setting: | 10 m – ∞ |
| Transmission Daylight (ISO 14490-5:2005): | 90% |
| Height (w/out Covers): | 2.12"/54 mm |
| Width (Fully Extended): | 3.34"/85 mm |
| Overall Length: | 24.8"/369 mm |
| Main Tube Diameter: | 30 mm |
| Weight (w/out Covers): | 29,27 oz/830 g |
| Mechanical Outer Diameter (Objective): | 63.5 mm |
| Mechanical Outer Diameter (Ocular): | 44.5 mm |
| Reticle: | G4i |
| Accessories Included: | Instruction manual, cleaning cloth, bikini scope cover, CR2032 battery, throw lever |
| Price (MSRP): | 849 euro (price may vary in your country due to importer and VAT) |
Summary of my field-test of the GPO Spectra 5x 3-15x56i riflescope
Working as a professional deer manager in numerous woodlands I have obvious reasons to go for a riflescope that have great low light capabilities. Making sure that I take the right animal out, based on my observations, in dark woodland cover conditions can be very challenging and GPO Spectra 5x gives me an opportunity to observe animals from greater distances with great precision. This scope allows me to pick up the smallest differences and make quick decisions on the spot without hesitation.
I am happily putting my name by GPO product and will say over and over again: you can't find better quality scopes for such user-friendly prices. 849 euro seems to be a great deal.