In a small village called Åmotfors, top-class ammunition has been developed and produced for 117 years. Especially in the Scandinavian area Norma is a constant in the hunting area. Accordingly, the re-branding of the brand also fits in with its own principle of continuous development. The entire Norma brand appearance has been revised for this purpose. But the new design also fulfills another purpose: innovative products, which will be released in this year and in the coming years, should receive the necessary attention. As part of the IWA 2019 Norma introduces its new products and new logo design in Europe for the first time. The US market already had this pleasure during the SHOT show in Las Vegas.
The new world of Norma: from packaging to website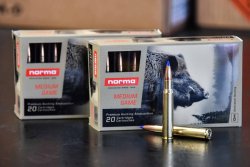 Franco Palamaro, © F.PALAMARO
Norma stands for constant renewal, commitment, passion and enthusiasm. To meet this requirement, the entire brand identity has been revised and modernized. Starting with the logo, which was modified only slightly, to packaging and website everything was brought up to date. A packaging categorization, combined with its own color code system, should facilitate finding the right products for specific requirements. In the future, products will be divided into the categories "Dedicated Hunting" (DH - sand colors), "Dedicated Precision" (DPR - red) and "Dedicated Components" (DC - steel gray). The DH range includes Norma's range of reliable and efficient hunting cartridges, the DPR series is designed for sports and training, and the DC series includes a selection of high quality reloading components. In addition, the packaging of selected products features a window through which the cartridges can be seen on the shelf. Pictograms and clearly arranged information further facilitate the correct selection. Since Norma produces ammunition in over 110 calibers, these innovations are very pleasing from the customer's point of view.
All in all, the new profile of the Swedish premium brand pays tribute to all the valued and unmistakable elements that have always been part of Norma. At the same time, however, a number of factors will be further developed that will ensure greater recognition, modernity and emotionality and should appeal to customers in particular. On the manufacturer's brand new  website you can get a comprehensive impression of the new design. Not only is it optimized for mobile devices, it also makes it easier to search for the right products and cartridges for every caliber. Our opinion: just great!
Norma Bondstrike Extreme, the long-range specialist from Sweden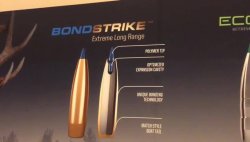 In addition to silencers and short barrels, there is another trend in hunting shooting: shooting over long distances! The Norma Bondstrike Extreme was specially developed for this purpose - a new hunting rifle cartridge line especially conceived for long distances. The Bondstrike Extreme bullet features a state-of-the-art polymer tip that is optimally designed for today's hunting demands. The proprietary bonding, coupled with a boat tail – as well known from match bullets – allow for a perfect combination of accuracy, penetration and stopping power. In the .30 caliber, the Bondstrike Extreme bullet trumps with an incomparable BC value of 0.615. The world's best value in this class!
The composite construction of the bullet allows for a very high residual weight. Controlled mushrooming creates a consistent wound channel in game in all speed ranges. These properties guarantee a perfect response of the projectile in the game body over all distances. This aspect may be particularly interesting for hunters in some European countries, where hunting is less common over long distances than in other countries. At the same time, the outstanding ballistic properties of the Norma Bondstrike Extreme offer the hunter the ability to hit safely and accurately over longer distances. The cartridge is suitable for medium to large game, such as roe deer, deer, elk and antelope. As Börje Sylvén, ballistics expert at Norma, states: "The most accurate long-range bullet we have ever built!"
Details about the Norma Bondstrike Extreme rifle cartridges:
| | | | |
| --- | --- | --- | --- |
| Caliber                | Bullet weight (g | gr) | Package content (piece) | Price (RRP in euro) |
| .308 Win. | 11,7 | 180 | 20 | 76.00 |
| .30-06 | 11,7 | 180 | 20 | 79.00 |
| .300 WSM | 11,7 | 180 | 20 | 97.00 |
| .300 Win. Mag. | 11,7 | 180 | 20 | 95.00 |
| .300 Rem. Ultra Mag. | 11,7 | 180 | 20 | 107.00 |
New rimfire cartridges from Norma: .17 HMR V-MAX and .22 WMR JHP
Hunting for small game or pest control need small caliber ammunition with the necessary accuracy and power. For this application Norma has developed the .17 HMR V-MAX and .22 WMR JHP cartridges: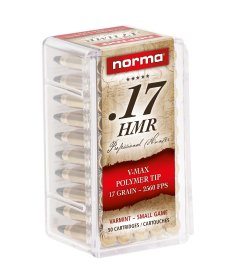 The .17 HMR V-MAX from Norma offers high accuracy and powerful performance over distances of up to 200 yd/180 m. The V-MAX bullet features a polymer tip, which allows for rapid mushrooming and thus a strong instantaneous effect. The cartridge owes its name to its extraordinary muzzle velocity of just under 2560 feet per second (780 m/s).
Here are the top three features of Norma .17 HMR V-MAX:

Hard-hitting polymer tipper V-MAX bullet for quick expansion
Ideal cartridge for varmint and small game hunting
Incredibly fast projectile for an effective range of 200 yd/180 m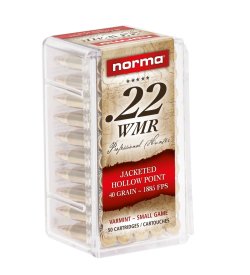 In the popular.22 WMR rimfire caliber Norma has introduced the .22 WMR JHP. The cartridge features a jacketed hollow point bullet, which combines penetration and expansion at an optimal level. It is particularly suitable for hunting small game, pests and varmints and also convinces on medium distances through extreme accuracy. The .22 WMR JHP by Norma uses a 40 gr bullet, with a muzzle velocity of 1877 feet per second (572 m/s).
Here are the main features of the Norma.22 WMR JHP:
Jacketed hollow-point design for optimal penetration and perfect mushrooming for small game hunting
Extremely accurate projectile over short to medium ranges
Details about the new rimfire cartridges from Norma:

| | | | | | | |
| --- | --- | --- | --- | --- | --- | --- |
| Caliber | Bullet  | Bullet weight (g | gr) | V0 (m/s) | E0 (J) | Package content (pieces)  | Price (RRP in euro) |
| .17 HMR | V-MAX | 1.1 | 17 | 777 | 332 | 50 | 22.90 |
| .22 WMR | JHP | 2.6 | 40 | 572 | 424 | 50 | 19.50 |
The new design can be seen as a prelude to more product news from Norma in the coming months and years. Of course we will keep you up to date.