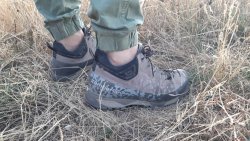 For the hunter good weather does not quite identifies with extreme heat, but perhaps rather with the wind that blows decidedly from the north and the typically autumn or winter climate. Those who love hunting, however, deeply love nature too and very often are also linked to many other related activities such as dog handling or trekking, mushroom picking and everything that allows a constant contact with the environment in all its dimensions.

Speaking of dog lovers, especially in spring and summer, training activities are often carried out mostly in natural meadows where, as temperatures become warmer, a technical shoe can make walking more comfortable, less tiring and still safe and precise in movements. In the footwear range that Zamberlan offers to mountain enthusiasts there is a new model that bears the name of one of the most famous routes for extreme climbing, the Salathé Wall on Mount El Capitan in California, which is one of the iconic destinations for mountaineers. Beyond the name, this model has been rightly defined as a "from the car to the top" product. This to indicate the versatility and high standards that Zamberlan has placed in a shoe that can accompany fans both on comfortable walks and challenging routes.
New Zamberlan Salathé shoe technical details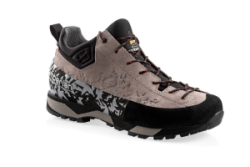 The Salathé shoe stands out for its lightness and stability, soft when walking but adequately resistant and protective against shocks and the most insidious terrain.
Its particular "up-cut" height combines the freedom of a low shoe with the protection of a mid shoe. The fit is snug and precise thanks to the use of elastic materials and an innovative construction with "to toe" lacing.
The upper, in embossed suede leather, is protected by a 360° band to increase resistance to wear and tear and rubbing against rocks/stones. The Salathé is water repellent thanks to the specific Hydroblock treatment, and its waterproofness is guaranteed by the Gore-Tex Extended Comfort lining.

The elasticated and breathable gusset  exponentially increases the shoe comfort, as does the pre-shaped collar made with a new technology that provides support while optimizing the use of material.
The microporous midsole has two different densities to provide shock absorption and  torsional rigidity at the same time; its construction gives the shoe cushioning properties and protection, while the Vibram Pepe sole with Megagrip compound ensures excellent grip on different types of terrain. Last but not least, the slim and attractive design of the Salathé is certainly worth noting – it is available in different colors to satisfy those who love high visibility and those who prefer darker shades. After having tested its performance and thanks to its pleasant aspect, we can say that we are fully satisfied with the new Zamberlan shoe, which is also recommended to those who love to travel in the summer time with great practicality, maybe moving with their dogs in tow and want to be able to rely on the same footwear  in different situations from departure to return. The Salathé shoe is available in a wide range of sizes from 38 to 48, intermediate sizes included.
Zamberlan Salathé specs

| | |
| --- | --- |
| Manufacturer: | Zamberlan |
| Model: | Salathé |
| Upper: | Suede leather with Hydrobloc treatment |
| Upper Thickness:  | 1.8-2 mm |
| Lining: | Gore-Tex Extended Comfort |
| Insole:  | Nylon, 1.5 mm |
| Midsole:  | EVA wedge |
| Outsole: | Vibram Pepe with Megagrip |
| Sizes: | From 38 to 48 (including half sizes) |
| Weight (Half Pair):  | 15.8 oz/450 g (size 42) |
| Last: | Zamberlan X-Active Fit |