Flexibility during walking and grip are the fundamental characteristics that the Zamberlan Lynx Mid GTX RR Bos boots ensure to the hunter, in addition to waterproof protection and practicality. The nubuck leather upper with camouflage blend is 0.1" / 2.6 mm thick and is soft but resistant, and the external Hydrobloc treatment guarantees waterproofing. Water resistance and breathability are also ensured by the Gore-Tex lining. A rubber toe rand protects the upper without weighing down the boot too much, which in fact features a standard weight of about 28 oz / 800 grams. The Zamberlan Vibram 3D Camo outsole ensures excellent grip on a wide range of terrains and makes it easier for hunters to walk thanks to its uplifting forward rocker. Let's move on to the most innovative technical features of the boot – its lacing system, fast and safe to use. 
Zamberlan Lynx Mid GTX RR and the new BOA Fit System
The BOA Fit System allows you to wear and take off your shoes faster, and to adjust tension just as quickly. A steel lace inserted in a strong nylon sheath replaces the normal laces and through a practical dial the hunter adjusts the fit around the foot. In this way the fit is always perfect and there is no risk of loosening the boot and therefore of distortion. The BOA Fit System is also suitable for situations in which the hunter crosses uncultivated terrain rich in brambles and brushwood where the normal laces can get caught or deteriorate. The boots are available in EU sizes 40 to 48, including half sizes.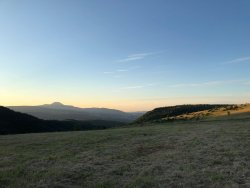 We at all4hunters have been testing our boots in Croatia since the first hunting trips this season, using them in wet environments for long time in the early morning hours, but also on dry and rocky terrain in some mountain areas as well.
Results were positive on the different types of terrain in which the Zamberlan boots distinguished themselves for strength and comfort. However, we recommend to use them in autumn and winter, because these boots maintain the internal temperature, a positive and fundamental factor in winter, but not so with high summer temperatures.
Zamberlan Lynx Mid GTX RR Boa boots: technical data
| | |
| --- | --- |
| Product:  | Zamberlan Lynx Mid GTX RR Boa |
| Upper:  | Nabuk leather with Hydrobloc treatment |
| Upper thickness:  | 0.1"/ 2.6 mm |
| Lining:  | Gore-tex Performance Comfort |
| Insole:  | Flex 4mm + PE |
| Midsole: | Low Density PU Wedge |
| Outsole:  | Zamberlan Vibram 3D Camo |
| Sizes: | EU 40-48 (including half sizes) |
| Weight:  | 28.5 oz / 810 gr (single boot, size 42) |
---
For more information on the Lynx Mid GTX RR Boa boots please visit Zamberlan website.