For 2022 Zamberlan proposes a technical footwear product that is joining the X-Active line and could prove to be a solution for a heterogeneous public of enthusiasts – basically, all those who enjoy mountain walking both professionally and as amateurs and those who, like hunters, continue to devote themselves to dog walking and training even during the warmer seasons.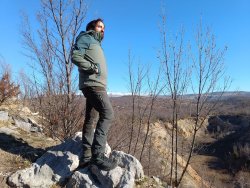 Details of the Zamberlan Anabasis technical boots

Attractive in design and seemingly simple in structure, Anabasis is a boot that stands out for the quality and technology of the materials used which can ensure lightness, comfort and safety when walking. The Gore-Tex Extended comfort membranes guarantee waterproof and breathable protection, while the special upper in different combinations of microfiber makes the boot soft and aesthetically pleasing thanks to color combinations with high visibility inserts. Zamberlan has created the new Anabasis for hiking with light loads, on different types of terrain, for both hiking experts and newcomers. In its name, which recalls the adventurous expeditions of ancient times and the exploration of inland and inaccessible territories, there is a clear intention on the part of Zamberlan to provide with this boot a valid support to those who want to move freely between challenging routes.

In order to optimize cushioning and ensure grip and hold on different terrains there is an EVA midsole in combination with the new Zamberlan Vibram Junko outsole with Megagrip compound. This outsole, which is the result of the well-established collaboration between Zamberlan and Vibram, is distinguished by its width on the heel area that allows for added stability while the Megagrip compound grants superior grip through both wet and dry conditions. We received a preview of the new Zamberlan Anabasis and after the still not too demanding first excursions in the mountains we can confirm how the lightness and softness are really the strengths of these technical hikers that not only assist your hiking, but also never make it fatiguing. With their comfort and the pleasant design, the Anabasis can undoubtedly represent excellent travel companions without the need for replacement footwear. We will certainly come back to talk about them when the mountain will give us all the confirmations that can only come from an intensive and continuous use, to which we are subjecting them and of which we will tell you. 
Pros
Mid-height construction to combine protection and freedom of movement
A combination of support, aesthetics and high performance
Made in Italy
Outsole with exclusive special anatomical design
Excellent grip on different types of terrain
Lightness and comfort
Cushioning and stability
Water-proof and breathable
Zamberlan Anabasis boots specs

| | |
| --- | --- |
| Modell: | Anabasis |
| Color: | Black/green |
| Upper:  | Microfiber |
| Upper Thickness:  | 1.8 mm |
| Lining: | Gore-Tex Extended Comfort |
| Insole: | Nylon 1.5 mm + PE |
| Midsole: | EVA wedge |
| Outsole:  | Zamberlan Vibram Junko Megagrip |
| Last: | Zamberlan X-Active Fit  |
| Sizes:  | EU 40-48 (including half sizes) |
| Weight:  | 15.8 oz/450 g |