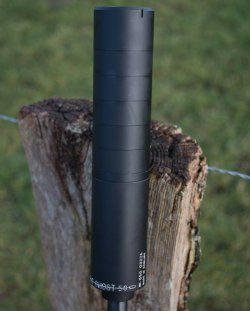 © Jagd-Team Nordschleswig
One for all: it would be good to have a silencer that can not only be used for a specific caliber, but also fits a rifle chambered in a different caliber. With the Sonic 50 Ghost, the Danish manufacturer Nielsen offers such a model. But does it work?

Here's the big disadvantage right up front: multi-caliber silencers with one bore size do not have ideal noise reduction performance, since there is a lot of space between the bullet and the silencer in small calibers. While it is not a problem to bolt, say, a 30-bore silencer onto a .222 Remington rifle, effectiveness is however reduced. An important note on this: screwing, say, a .222 SD onto a larger caliber rifle is dangerous and must not be attempted under any circumstances. Important: never use sub-caliber silencers!

With the aforementioned Sonic 50 Ghost, there is a multi-caliber silencer (in form of an over-barrel silencer) from the Danish manufacturer Nielsen that can be used for caliber groups from .17 to .375 (4.5 mm to 9.5 mm). The solution to this is found in the changeable inner caliber insert.
Nielsen Sonic 50 Ghost: flexibility through caliber insert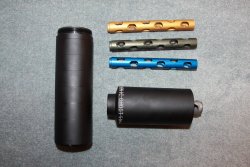 © Jagd-Team Nordschleswig
The Sonic 50 overhangs the barrel muzzle by ten centimeters. The overall length of the Sonic 50 is 9.8"/25 centimeters, which adds 5.9"/15 centimeters to the overall length of the rifle. The silencer has a 0.59"/15-millimeter-wide bore on the inside that accommodates the respective caliber insert. Replacement is simple: the muzzle cap is simply unscrewed without tools, the inner caliber insert is pulled out and replaced with a new insert according to caliber. 
The insert tubes are anodized and colored, each color designating one of the available caliber groups. When installed, the colored rim can be seen at the muzzle of the suppressor. Nielsen offers seven caliber inserts, of which the hunter can freely choose five to be included.
These caliber inserts are available for the Nielsen Sonic 50:

| | |
| --- | --- |
| Caliber inserts   | Maximum caliber |
| Max .17    | up to 4.5 mm (.17 HMR) |
| Max 6 | up to 6 mm (.22 to .223, .243) |
| Max 7 | up to 7 mm (6.5, 7 mm, .270, .280) |
| Max .30 | accurate for .30, 7.62 mm calibers (.308, .30-06, .300 Winchester Magnum) |
| Max 8 | up to 8 mm (.30, .308, 8x57) |
| Max 8.5    | up to 8.5 mm (.338, 8.5x63) |
| Max 9.5   | up to 9.5 mm (.375, 9.3) |
Nielsen also thinks of various hunting rifles with the Sonic 50 Ghost in terms of thread adapters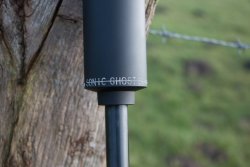 © Jagd-Team Nordschleswig
To match the interchangeable caliber inserts, Nielsen also offers different muzzle thread adapters for the different barrel diameters and threads. The suppressor is equipped with an M18x1 thread as standard. The scope of delivery also includes three adapters that allow the silencer to be screwed onto almost any rifle. The limit here is a barrel diameter of 0.86"/22 mm. The adapters are screwed onto the barrel thread and should be glued there. This prevents the adapter from getting stuck in the silencer all at once when the various materials expand due to heat.

For cleaning, the user can disassemble the Sonic 50 by hand and without tools. The silencer consists of a total of eight parts: Seven sections and the caliber insert. Perfect for quick and thorough cleaning!

The manufacturer puts the sound reduction at 21-31 db(A). Of course, always depending on the firearm-caliber combination used.
Nielsen Sonic 50 Ghost specs and price

| | |
| --- | --- |
| Model: | Nielsen Sonic 50 Ghost |
| Overall length:  | 250 mm |
| Over-Barrel: | 100 mm |
| Diameter:  | 50 mm |
| Weight: | 385 g |
| Maximum Barrel Diameter:  | 22 mm |
| Price: | 399.82 euro |
Conclusion on the Nielsen Sonic 50 Ghost by Andreas Jordt from Jagd-Team Nordschleswig

I am currently using the Sonic 50 Ghost on an Anschütz 1771 in .222 Remington caliber and I am very pleased with the sound reduction and also the changed sound (no high cracking sound). However, the caliber inserts allow me to use the suppressor on other guns with larger calibers at any time. This provides great flexibility and less expense for another silencer.
Good hunting,
Northern Schleswig Hunting Team
Andreas Jordt

| | |
| --- | --- |
|  What we liked: |  What we found less good: |
| Sound reduction available | Less sound reduction than with a caliber-specific silencer |
| High cracking sound of shots is prevented | |
| Flexible to use, thus lower cost if you have several guns | |