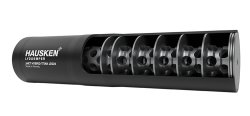 Norwegian silencer specialist Hausken now offers its proven Jakt Lyddemper (silencer) JD224, popular with hunters around the world, as an extremely robust and durable version with a titanium interior. According to the manufacturer, the new Jakt JD224 Hybrid Titan combines "quality, performance and practicality " like no other silencer. 

The new silencer has a reinforced outer tube made of hard-anodized aluminum and an "indestructible" core made of grade 5 titanium, making the new JD224 Hybrid Titan ideally suited for magnum calibers and fast firing series – especially also for tough use in shooting cinema use or when shots are fired quickly one after the other at the shooting range. Inside the suppressor, the gas can expand accordingly well thanks to the 50-mm diameter which, according to the manufacturer, makes a sound pressure level reduction of around 30 decibels possible.
The new JD224Ti is also based on the proven Hausken over-barrel design, so that the overall length of the rifle with the silencer screwed on increases by only 14 cm and the hunter still has a very manageable rifle in front of him/her. The silencer has an M18x1 thread and is available for the .30, 8 mm S, 8.6 mm to .338 and 9.3 mm to .375 caliber groups and can be ordered immediately from specialist dealers at the recommended retail price of 750 euros each.
How the new Hausken Quick-Lock adapter works
If you want to attach the Hausken JD224 Hybrid Titan to a rifle with a different muzzle thread, you can also do that using the optionally available Hausken Quick-Lock adapter. The two-piece Quick-Lock adapter allows extremely fast and reliable mounting, dismounting and changing of silencers, especially on rifles used for hunting. This adapter system consists of the respective H-LOCK adapter, which is available in the 1/2"-20, 1/2"-28, 5/8"-24 versions as well as M14x1 and M15x1 versions, for 41 euro each (RRP), and the H-LOCK insert (RRP: 51 euro), the matching thread cover is available for just under 17 euro.
The two-piece adapter system is compatible with all Hausken silencers that have an M18x1 female thread. A centering cone and an additional O-ring are intended to ensure a secure and, above all, repeatable attachment of the silencer, without affecting the holding point  when screwing on the silencer again. With the Quick-Lock adapter from Hausken, several threads engage at the same time with a simple 90° turn of the counterpart screwed into the silencer. The adapters are made of aluminum bronze, which was selected for its exceptional hardness and high corrosion resistance. In addition, this alloy has significantly better sliding properties compared to many other alloys.
Video: Hausken Jakt JD 224 Hybrid Titan
This video has been hidden because of an external service (YouTube) that could potentially collect personal data.Allow video services for the duration of the visitAllow video servicesStop allowing video services
Jakt, Whisper and Mini – The current Hausken range of silencers with all models (as of 8/2023)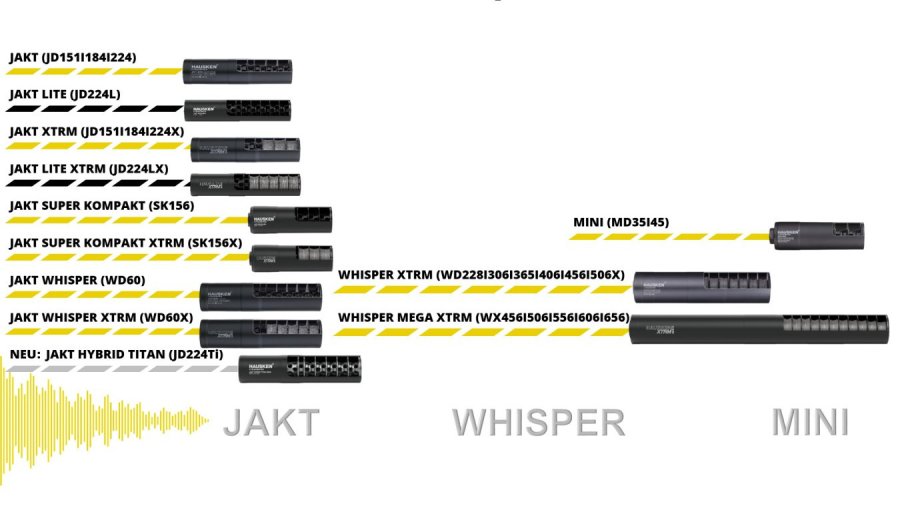 Hausken Jakt JD224Ti specs and price
| | |
| --- | --- |
| Model: | Hausken Jakt JD 224 Hybrid Titan |
| Manufacturer: | Hausken |
| Construction Design: | Over-barrel silencer |
| Calibers: | .30 / 8 mm S / 8.6 mm - .338 / 9.3 mm - .375 |
| Thread: | M18 x 1 |
| Outer Diameter: | 50 mm |
| Length from Barrel Muzzle: | 140 mm |
| Overall Length: | 224 mm |
| Price (MSRP): | 750 euro |
The team at all4hunters.com is already looking forward to testing the new Hausken JD224 Hybrid Titan in conjunction with the smart Quick-Lock adapter for you in practice – as soon as that happens, you can read more about it here.