Turkish shotgun manufacturers are highly active in their search for new configurations and modifications of shotguns for various market niches and uses. This year three Turkish shotgun makers presented their own visions of semi-automatic bullpup shotguns, aimed for the "tactical"  and home defense use.
Compared to traditional shotguns, bullpup guns offer noticeably more compact size while sporting barrels of respectable lengths. This makes those guns easier to maneuver in confined spaces, although specifics of bullpup ergonomics often require users to adjust their training and gun handling practices.

The first one is Barak BR X76 by Bora Arms, a 12-gauge gas operated semi-automatic, with a box magazine feed system. This one appears to be a more or less conventional semi-automatic shotgun concealed inside a clam-shell polymer housing. As such, this gun features only right-side ejection and has a cross-bolt type manual safety located way back on the stock behind the magazine housing. The Gun is just 75 cm long with a respectable 51 cm barrel, and weights about 3.4 kg empty. It can use 2, 5 or 10-round box magazines compatible with other Bora Arms box-fed shotguns of the same caliber.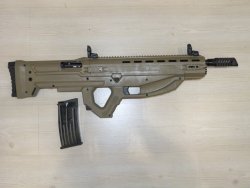 The second one, UNG-12 from Uzkon Arms, appears to be a more thoroughly designed weapon; it was designed as bullpup from the ground up, and so it has more conveniently located controls like charging handle, cross-bolt button safety and magazine release button. It also can be produced with left-hand ejection and right-hand charging handle for left-handed shooters. UNG-12 is also of gas operated design. It's 84 cm long with a 48 cm barrel, and has an aluminum alloy upper receiver with integrated Picatinny rail. The lower receiver is made from impact resistant polymer and the shoulder stock is equipped with a two-stage recoil-reducing system. It uses detachable box magazines with capacity of 2, 5 or 10 rounds. The ambidextrous magazine release button is located at the bottom of the gun in front of the magazine housing.
Derya Arms semi-automatic bullpup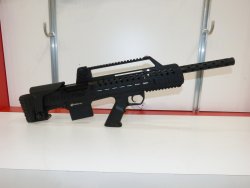 Finally, there's a small-bore (at least in shotgun terms) semi-automatic prototype from Derya Arms. Firing .410 gauge shells, this compact weapon has a 47 cm barrel and feeds from detachable box magazines of 5-rounds capacity. Like the other guns described above, it's a gas-operated design, apparently based on a conventional shotgun. It's still in pre-production state and thus its full characteristics are not yet finalized. Looks like it is targeted for the Turkish domestic market, where small-bore (36 Ga and .410) shotguns have strong following among people who are not allowed to own rifles, but want rifle-type ergonomics, look & feel and recoil from tactical or home-defense shotguns.