Currently headquartered in Maryland, but manufacturing in the Vursan plant in Turkey, Stoeger Industries is a subsidiary of Benelli USA (itself a Beretta Holding company) dedicated to the manufacture and distribution of semiautomatic, pump-action, side-by-side and over-and-under shotguns offering high quality at a budget price for hunting, sport shooting, defensive and tactical purposes. Stoeger Industries currently also distributes the "Cougar" series of semiautomatic rotating barrel pistols, available in 9mm, .40 and .45 calibers and previously offered by Beretta.
Stoeger's semiautomatic shotguns are based on the tried-and-true Benelli patent inertia-driven system, still a cutting-edge solution for autoloaders well fifty years after it was first conceived by Benelli engineer Bruno Civolani. Adopted by countless manufacturers worldwide, often copied (or tried to be!), never matched by any competitor, the inertia-driven system offers unparalleled reliability, fast cycling, cleaner and smoother operation with any caliber and load, and for all uses.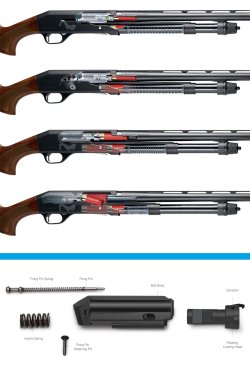 For several years, now, the Model 3000 has been the mainstay in Stoeger's products line. An inertia-driven, semiautomatic 12-gauge shotgun, the Model 3000 quickly turned into a top seller thanks to its combination of good craftmanship, operational reliability, and an extremely competitive retail price.
Ever since it was first launched, the Model 3000 didn't prove popular "just" between hunters and recreational shooters: several dynamic/practical shooting enthusiasts quickly found out that, with a few modifications, the Model 3000 could suit most of their needs − even the most stringent − and as the months and years went by, a number of third-party companies started to manufacture and sell dedicated accessories and add-ons that allowed the Stoeger Model 3000 to be effectively turned into a practical shooting machine, particularly for 3-Gun competitions.
Realizing the market potential for the design, at the 2015 SHOT Show − which took place last January in Las Vegas (NV, U.S.A.) − the Stoeger Industries company debuted the M3K 3-Gun semiautomatic shotgun, essentially a "factory 3-Gun ready" variant of the Model 3000 design, which is now available for commercial sales in the United States and in many other Countries.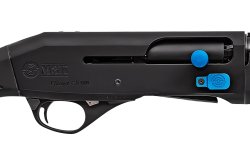 The Stoeger M3K semiautomatic shotgun is chambered to fire 70mm (2.¾") or 76mm (3") 12-gauge shotshells; the factory issued feeding tube holds up to four shots − bringing the overall capacity to five rounds, including an additional shell in chamber − but the M3K is compatible with all accessories manufactured by Stoeger itself and by a plethora of third-party suppliers for then Model 3000, including magazine tube extensions and clamps. Possibilities are thus unlimited: the overall capacity can be boosted to ten or twelve shots, providing all a 3-Gun shooter needs for his or her drills.
The Stoeger M3K shotgun comes with a 24"-long barrel, itself fitted with a ventilated rib featuring a front post sight with a red fibreglass insert. The M3K 3-Gun shotgun is issued with Improved Cylinder (IC), Extended Cylinder (C) and Medium (M) removable/interchangeable chokes.


Some of the most immediately noticeable, distinguishable features of the Stoeger M3K include a bright light blue slide stop release button manufactured out of hard-anodized aluminum, an oversized light blue anodized aluminum cocking handle, an oversized safety lever and an and enlarged, beveled loading port for quicker and easier reloading.
The frame of the Stoeger M3K 3-Gun semiautomatic shotgun is manufactured out of lightweight alloy, and is drilled and tapped for tactical rails; the Stoeger M3K features a black synthetic handguard and buttstock − whose hollow structure allows the installation of a Stoeger 13-ounces recoil reducer as conceived for the Model 3000 and Model 3500 shotguns (not included).
Being offered at a manufacturer's suggested retail price of $699 in the United States starting March 1st, the Stoeger M3K 3-Gun shotgun is a practical shooting workhorse that sells at one third of the price of any other standard 3-Gun shotgun, and basically at upland shotgun levels.
Interested non-US buyers should address all questions concerning local availability and pricing of the Stoeger M3K 3-Gun shotgun to their local dealers or their national Benelli/Stoeger importers and distributors.

This video has been hidden because of an external service (YouTube) that could potentially collect personal data.Allow video services for the duration of the visitAllow video servicesStop allowing video services