A jury of international experts individually tested more than 6500 products to select the winners in the different categories of the Red Dot Award, that for more than 60 years has been providing a platform for designers and companies to assess good design.

This year, for the Compressed-Air rifle category, the coveted red seal was won by Stoeger, a Beretta Group company, for the design of its PCP XM1. Keith Heinlein, product manager at Stoeger, said: "From concept to final production, we designed the XM1 with optimal form and function to deliver the ultimate in ergonomics and performance. We are honored to receive this prestigious award and are looking forward to bringing other innovative designs to the market." 


Stoeger XM1 PCP air rifle, ergonomics at its best
The Stoeger XM1 is a PCP, or pre-compressed air rifle, powered by an integrated 2900 psi (200 BAR) rechargeable tank and can shoot approximately 50 shots per charge. The rifle can be charged with a hand pump or with an air tank using an adapter. The .17 (4.5 mm) and .22 (5.5 mm) calibers offer a muzzle velocity of 365 and 305 meters per second respectively. The .22/5.5 mm rotary magazine can hold seven pellets, while the.17/4.5 mm caliber version holds nine. The special Thridion Pro Adaptive checkering on the bolt lever provides a secure grip when chambering a pellet.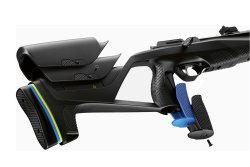 The synthetic stock featuring a thumbhole and pistol grip features a design based on Stoeger's Human Tech Design philosophy. The special Pro Adaptive checkering along the ergonomic stock allows for a safe purchase in virtually every shooting position. The Stoeger XM1 takes ergonomics to the next level with the Multi Grip System that includes a standard and high cheekpiece and two easily replaceable pistol grips of different sizes. The trigger can be adjusted from -4 mm to +8 mm. Together with the buttstock featuring interchangeable spacers, this provides additional customization possibilities. To offer shooters further options to customize their air rifle, Picatinny rails can be found on both sides of the stock, allowing for the addition of extra accessories and magazines. 
The base model of the Stoeger XM1 in .17 caliber comes with a black synthetic stock and fiber optic sights. Also available in both .17 and .22 calibers is a suppressed model with a 4x32 scope included. Finally, a suppressed .22 version with 4x32 scope and Realtree camouflage finish is available too. 
The approximate price of the base model in .17 caliber is about 420 euro (price may vary in different countries).

Stoeger XM1 air rifle specs
| | |
| --- | --- |
| Model: | XM1 |
| Calibers: | 17/4.5 mm - .22/5.5 mm  |
| Operating system: | Pre-charged pneumatic (PCP) with air regulator |
| Safety:  | Manual |
| Front Sight: | Fiber optic, interchangeable |
| Rear Sight:  | Adjustable  |
| Stock: | with ProAdaptive non-slip checkering |
| Overall Length: | 986 mm 896 mm |
| Barrel Length: | 565 mm |
| Weight: | 5.5 lb/2.5 kg |
| Muzzle Velocity (.17/4.5 mm caliber):   | 365 m/s |
| Muzzle Velocity (.22/5.5 mm caliber):  | 305 m/s |
| Air Tank: | 200 bar/2900 psi w. integrated pressure gauge |
| Rotary Magazine Capacity: | 9 shots in .17/4.5 mm and 7 shots in .22/5.5 mm |
| Notes: | Comes with magazine, adaptor, O-ring, MGS kit, Picatinny rails |
| Price: | From 420 euro approx. |