The FABARM Professional brand was recently launched by the Italian-based FABARM S.p.A. gun manufacturing company to better meet the needs and demands of official customers − Police organizations, military forces, private security companies.

For many years, now, the FABARM company has been manufacturing defensive, tactical and duty-oriented semi-automatic and pump-action shotguns, and the FABARM Professional brand aims to offer even better and more versatile products as alternatives to those marketed by other important Italian or American brands.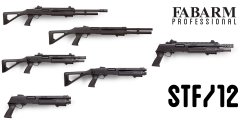 The FABARM slide action STF/12 12 gauge shotgun, 76mm/3"-chambered pump-action shotgun is the first product to be distributed under the "FABARM Professional" brand, and is also one of the company's most revolutionary models ever.
What makes the FABARM STF/12 stand among the competition is its conception as a modular system rather than as a "family" of six different variants.
At the heart of the FABARM Professional STF/12 shotgun is a black hard-anodized frame machined out of ERGAL-55 lightweight aluminium alloy. No matter the variant, the STF/12 can be switched from one to any of the many others by installing the relative components to the frame itself.
All FABARM Professional STF/12 shotguns come by default with a black polymer handguard with a gripping Soft Touch finish and a short MIL-STD-1913 "Picatinny" rail for tactical accessories. Other factory-issued add-ons include a ventilated barrel shroud, a screw-on breacher-type flash hider and a top MIL-STD-1913 "Picatinny" rail for LPA "Ghost Ring" quick-align iron sights or optical aiming devices.
The interchangeable components for the FABARM slide action STF/12 system includes: a stock group including a black synthetic pistol grip with a Soft Touch gripping finish and either a fixed or side-folding buttstock; a 4+1, 5+1, 6+1 or 7+1 magazine tube; a 28cm./11", 36cm./14" or 46cm./18" barrel with a 18,4mm profile; or a 51cm./20" or 56cm./22" barrel sporting a TriBore HP high-accuracy profile.
The first FABARM Professional STF/12 shotgun variants were distributed on the Italian commercial market early in July; prospective international buyers may want to contact FABARM to inquire about slated availability and pricing in their respective Countries.