The semi-automatic shotgun, weighing about 8.15 lb/3.7 kg, is based on the AK-47 platform. It's a gas-operated gun with a rotating bolt and long stroke piston, as well as a 18.5"/470 mm long barrel. The folding telescopic stock features a height-adjustable cheek rest, which increases shooting comfort especially in combination with the illuminated dot sights, which cut a particularly good figure on such a gun. The iron sights as well as controls, and thus all handling procedures, are the same as in the "Kalash" design, which has been proven a million times over.
Video: The Armsan RS-S1 semi-automatic shotgun in action

This video has been hidden because of an external service (YouTube) that could potentially collect personal data.Allow video services for the duration of the visitAllow video servicesStop allowing video services
Armsan RS-S1 – Same operating procedures as the Kalashnikov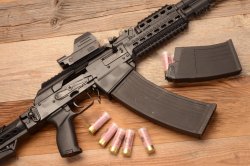 The impressive plastic magazines hold either 5 or 10 cartridges, whereby you can of course fire shot, buckshot or slugs onto the target. We fired the Armsan RS-S1 in 12/76 in a short first contact with Sellier & Bellot 12/70 shotgun shells featuring a 36 g load, whereby the shotgun, which converts ammunition energy into cycling energy, behaved in a civilized manner. With the gun firmly held against the shoulder, rapid strings of shots were possible without the muzzle moving too much out of the target.

According to reports, many components of the Turkish semi-automatic shotgun with box magazine are compatible with Russian smooth-bore guns of the same design. The Armsan RS-S1 comes in a sturdy plastic carrying case with two box magazines holding 5 and 10 rounds respectively, as well as with extensive accessories.
Price is under 1000 euro in most European countries.