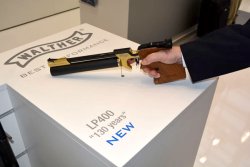 In celebration of its 130th anniversary, Walther is issuing a special edition of the LP 400 and LG 400 match guns as Walther Master Manufaktur special editions. all4shooters.com managed to get a sneak peek at these special editions during the IWA OutdoorClassics. 
These guns will be released starting in March/April in a limited edition of 130 units each, with a separate range of serial numbers. 
The system and tube in the air pistol or the shaft and tube in the air rifle are anodized in gold. The wooden components are made of walnut and each unit comes with a certificate. The LP pistol goes for 1834 euros and the LG carbine for 2581 euros.  So you'll need to act quickly to get your hands on one of these coveted pieces.