The all-metal bolt-action rifle, which weighs just under 7 lb/3.2 kilograms when empty without additional equipment, impresses at first glance primarily with its striking aluminum chassis from Canadian specialist Modular Driven Technologies Inc. (MDT). The Canadians are among the international market leaders in this field, offering a very broad choice of rifle chassis and cooperating directly with some well-known rifle manufacturers.

The new B22 Precision series has only been expanding Savage Arms' already huge catalog since last year and consists of three different rifle models in .17 HMR (Hornady Magnum Rimfire), .22LR (Long Rifle) and .22 WMR (Winchester Magnum Rimfire) calibers. Incidentally, the complete B (Bolt Action) series includes no less than 29 models with synthetic, wood and metal stocks. In addition to this line of bolt-action rifles, Savage Arms also offers the A (Automatic) series of self-loading rifles in the three rimfire calibers mentioned above, and here, too, the selection is very lush with 19 different models. The B22 Precision model introduced here could also be classified as a competitor to comparable makes such as the Ruger Precision Rimfire. 
B22 Precision: a Canadian co-production by Savage Arms and Modular Driven Technologies (MDT)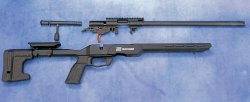 Savage Arms' rimfire rifles are primarily manufactured at its Canadian manufacturing facility in Lakefield, Ontario. Machined from 6061-T6 aluminum, the Savage B22 Precision's one-piece MDT chassis features a fixed buttstock that can be varied in length with included spacers. Length of pull (LOP) is 13.7"/34.9 cm as delivered from the factory and can be shortened to 12.7"/32.3 cm. This is accompanied by a height-adjustable comb, which can be adjusted after loosening the two star grip screws. The handguard with its 1.6"/41 millimeter wide, flat underside can be used well together with rifle rests.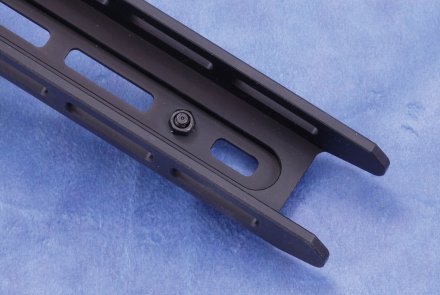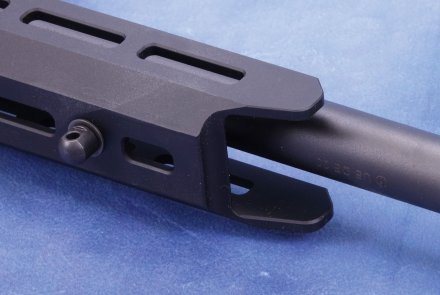 However, four M-LOK cutouts each on the underside as well as on the sides of the handguard allow additional equipment to be attached, so we also fitted the Savage B22 Precision with an UTG bipod at times. The steel receiver houses the small bolt with an oversized charging handle and is connected to the chassis with two screws. A one-piece, long MIL-STD-1913 Picatinny mounting rail sits on the top of the action, making mounting an optic a breeze. The 18"/457mm long, button-rifled barrel features a 1-16" twist as well as muzzle thread and shroud. Thus, nothing stands in the way of mounting silencers or other muzzle attachments. The polymer trigger guard, the free-standing pistol grip and the stock are screwed to the chassis.
The Savage B22 Precision comes factory with an adjustable trigger
The signature "AccuTrigger" trigger assembly has an integrated safety in the trigger blade. Factory-adjusted to an outstanding 28.21 oz/800 grams pull weight, the trigger can be subsequently adjusted by the shooter in a weight range of approximately 24 oz to 80 oz (680 to 2270 g). This trigger assembly is combined with a two-position slide safety located on the tang.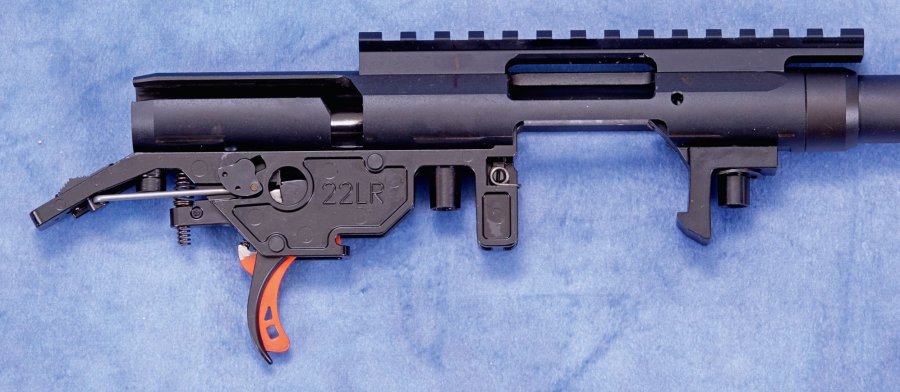 Savage B22 Precision: the test at the shooting range
For our 50-yard test with eight varieties of rimfire ammo we outfitted the small all-metal rifle with a Leupold VX-R 3-9x50 and a UTG bipod. The bipod was mounted as far forward as possible on the handguard, which, along with a rear sandbag rest for the buttstock, made for a very stable aiming position. 
Good groups could be punched into the cardboard even with inexpensive grades of ammunition. Even with the inexpensive CCI Standard Velocity, we already achieved a very appealing grouping of eleven millimeters. But we could do even better. With the RWS R100, we achieved the best group of 0.27"/7 mm. In the end, we produced hit groups below the 0.78"/20-millimeter mark with the B22 Precision and all ammunition types used. In other words, this rifle delivers top shooting performance with a wide range of ammunition.
Savage B22 Precision specs and price
| | |
| --- | --- |
| Model: | Savage Arms B22 Precision |
| Action: | Bolt action without positive locking lugs |
| Barrel:  | 8"/457 mm long barrel in "heavy barrel" contour with 1-16" twist and muzzle thread with protective cap |
| Stock: | MDT alloy chassis with adjustable buttstock, free-standing AR-15 pistol grip and M-LOK handguard |
| Magazine:  | Rotary magazine with a capacity of 10 rounds |
| Trigger: | Adjustable "AccuTrigger" single-stage trigger with integrated safety in the trigger blade, measured trigger pull weight: 804 grams |
| Safety: | Two-position slide safety on the tang acting on the trigger |
| Overall Length:  | 36"/91.4 cm |
| Weight:  | 7 lb/3180 grams |
| Price:  | 849 euro (price may be different in your country) |
The verdict: this is how Michael Fischer and Stefan Perey rate the Savage Arms B22 Precision for all4shooters.com
The Savage Arms B22 Precision rimfire bolt-action rifle tested and presented here features an MDT alloy chassis and match-grade accuracy, and for 849 euros, it's a fair deal. A  0.27"/7 mm grouping is worthy of all honors.

| | |
| --- | --- |
|  What we liked: |  What we found less good: |
| Excellent accuracy | - |
| Adjustable, accurate match-level trigger | |
| Extensive factory equipment | |
| Fair price/performance ratio | |
---
Text: Stefan Perey and Michael Fischer
More information about the B22 Precision can be found on the Savage Arms website.