One of the world's most successful semi-automatic rimfire rifles is known to be the Ruger's 10/22 model, which has been built in huge numbers since 1964 until today and for which countless tuning companies offer specialized retrofit parts. It is a pleasing fact that, for example, a Ruger 10/22 Carbine with black synthetic stock can change hands for just around 300 USD. So the match version from the Custom Shop presented here is almost sinfully expensive, at a retail price of 899 USD. However, you should also consider that highly bred match rifles based on the 10/22 platform from renowned tuning gunsmiths like Volquartsen Firearms cost twice as much. So what can you expect from the autoloading rimfire rifles of the original manufacturer's upper price range?

The Ruger 10/22 Competition in detail
The heart of the carbine is a receiver made of a 6061 T6 aluminum alloy, which makes this material an ALMgSi alloy. Although the strength is not as high as that of the 7075 T6 aluminum alloy, the 6061 can be cold formed much better. The 7075 T6 aluminum alloy is often used for AR-15 rifles receivers. This alloy is not required for a rimfire gun and therefore Ruger's choice of material is certainly appropriate. The CNC machined receiver was heat treated, stress relieved and anodized. The integral optics rail on the top of the receiver is machined from solid billet. Like the Picatinny rail of the Ruger Rimfire Precision bolt-action rifle, it has a 30-MOA tilt, so that as a shooter you have a sufficient elevation adjustment range even at longer distances. Inside the rifle a blowback action does its job. A cold hammered, 16-1/8" (410 mm) long, fluted bull match barrel is threaded with a 1/2"-28 pattern for standard muzzle accessories. The Ruger 10/22 Competition is supplied with a muzzle brake, but other muzzle attachments or suppressors can also be retrofitted. The laminated stock, painted in a speckled black-grey finish, has an adjustable cheek rest that can be moved vertically and horizontally, ensuring a relaxed head position when shooting with a riflescope.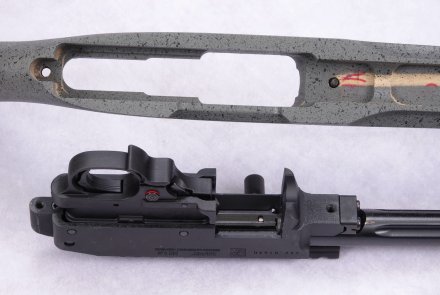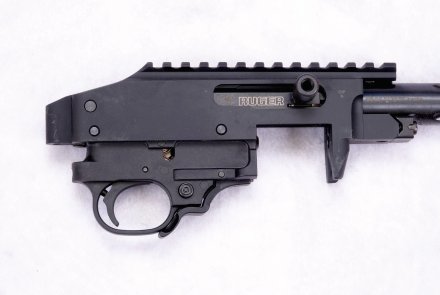 Complete equipment: that's what he Custom Shop 10/22 offers

The small rifle is rounded off by a Ruger BX match trigger, which had a measured pull of 2.8 lb/1280 g and crisp characteristics with minimal overtravel and positive reset. Oversized controls such as the cocking handle, magazine release and safety push button improve the handling characteristics, which is particularly advantageous in dynamic shooting disciplines where the time factor also plays a role.
Ruger Custom Shop 10/22 Competition – All data, prices and details

| | |
| --- | --- |
| Model: | Ruger Custom Shop 10/22 Competition |
| Operating System: | Blowback |
| Caliber: | 22 LR |
| Barrel: | 6.12"/410 mm long, fluted bull match barrel with 1-16" twist and ½"x28 UNEF muzzle thread |
| Stock:  | Painted laminated wood stock with adjustable cheek rest and sling studs |
| Magazine: | Box magazine with a 10-round capacity |
| Trigger: | Ruger BX match trigger, 2.8 lb/1280 g measured pull weight |
| Safety: | 2-position push-button cross bolt safety on the trigger guard, acting directly on the trigger |
| Overall Length: | 36"/91.5 cm |
| Weight: | 6 lb/2700 g |
| Price: | 899 USD |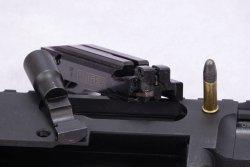 A simplified maintenance

Another clever feature of the Ruger Custom Shop 10/22 Competition is the disassembly procedure, which makes maintenance and care of the rimfire match rifle easier. But before you can see this, the action must first be freed from the stock. To do this, two receiver screws on the underside of the painted wooden stock must be loosened. With its large, straight surfaces, the receiver lies firmly in the stock. As we expected from a custom shop gun, the main components were assembled with minimal play. If you now hold the receiver in your hands, the trigger assembly can be taken out after removing the disassembly pins. If you now pull the cocking handle including the bolt backwards, you reach the disassembly position. With a little pressure downwards, you can immediately hold the bolt, the spring guide rod, the recoil spring and the cocking handle as individual components in your hand.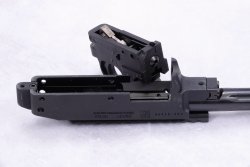 In this way you can clean every component perfectly. When reassembling, you should then follow the correct sequence: first the spring is pushed onto the guide rod and then it is positioned in the receiver. Then the cocking handle comes through the ejection port and the guide rod is pushed through it. Now the rod can be inserted in its notch. Then the cocking handle is pulled backwards. This must be pulled back until the catch with the corresponding recess can be inserted again from above. Sounds complicated, but the necessary steps can be done in a few minutes.
With the Ruger 10/22 Competition in .22 LR on the shooting range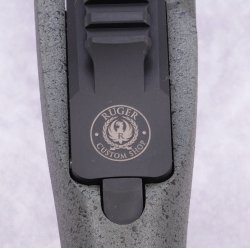 Fitted with Leupold PRW2 mounting rings, Sightron 6-24x50 SIII Long Range Tactical riflescope and UTG bipod, we moved to the shooting range with the compact Ruger 10/22 Competition. The cheek rest adjustment mechanism adopted from the Ruger Precision Rifle (RPR) series facilitated an ideal setting for an accurate shot. According to the manufacturer's specifications, the barrel chamber was also modified in order to optimize case feed and extraction. In this respect we can only report that the small rimfire semi-automatic carbine was able to digest any type of ammo without complaint and even with intensive shooting without cleaning there were no malfunctions. This rifle did not react sensitively to dirt. With the right cartridges,you can punch really small groupings into the target with the Custom Shop 10/22 Competition, which does not have to hide behind the results of small caliber semi-auto rifles. We produced an 0.31"/8 mm grouping at 50 m with the RWS 100 match cartridge.  0.47"/12 mm was the grouping circle we were able to produce with the RWS pistol match ammunition. However, we also achieved respectable results with ammunition types that are cheaper than the RWS 100 Match, such as the Federal Target Champion. With this cartridge, which is ideally suited for training, we achieved a 0,55"/14 mm grouping circle.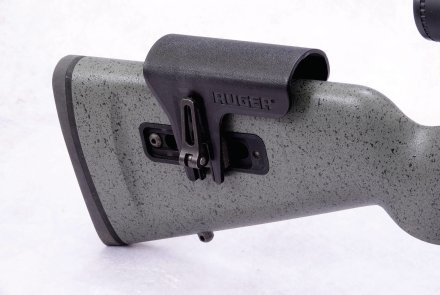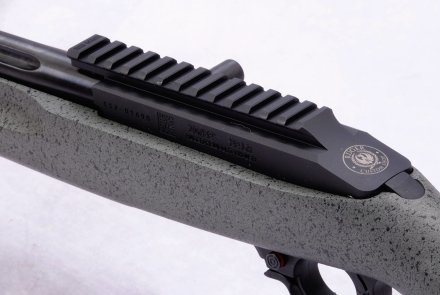 Ruger 10/22 Competition: wrap-up

It is not without reason that the Ruger 10/22 is one of the world's most popular autoloading rimfire rifles. With the models from the in-house tuning shop, the young classic was refined in detail once again. With its adjustable stock, match trigger, match barrel and sophisticated equipment, a lot of shooting fun with impressive performance is guaranteed. Compared to the standard models, which are available for a little more than 300 USD, you will have to dig deeper into your pockets. Because our test model presented here costs 899 USD – but in our opinion it is worth every cent.
---
Text: Stefan Perey and Michael Fischer

Further information about Ruger firearms can be found on the Ruger website.