There has always been a similarity between motorcycles and sporting guns, not only in philosophical but also in historical terms, since many firearms factories have produced motorcycles and vice versa, starting from FN Browning up to Italian Benelli.

In the case of the US gun manufacturer Nesika, the connection is geographic because the small town of Sturgis – six thousand inhabitants in South Dakota – hosts annually the "Sturgis Rally", the world's largest motorcycle event to which about half a million motorcyclists take part each year since 1938.

The company produces both actions for the customizers market and complete rifles using components of the highest quality. What we present here is the Tactical model.


Nesika Tactical: technical features
The Nesika Tactical rifle is a triumph of gun technology, starting with the proprietary Nesika Tactical action, continuing with the heavy barrel manufactured by Douglas. Before assembling  the action, barrels are carefully inspected with a pneumatic pad to guarantee impeccable uniformity, and a AAC Blackout muzzle brake is fitted.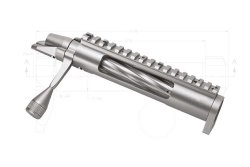 The Cerakote matte finish protects all metal parts from rust and corrosion, including the five-round removable magazine and the Weaver-type monolithic rail for the mounting of optics. The bolt is machined from a single block of 4340 chrome-molybdenum steel.
The barrel-action unit is embedded in a Bell & Carlson Tactical stock, with an ergonomic buttstock featuring a length and height adjustable cheekpiece, equipped with a full-length aluminum bedding, which improves accuracy in all conditions. 
To complete the gun, a Timney trigger group, fully adjustable and pre-set to 3 lbs (1360 grams), and a test target certifying sub-MOA accuracy.

The Nesika Tactical rifle is available in .300 Winchester Magnum with a 26 in / 66 cm barrel or in .338 Lapua Magnum with a 28 in / 71 cm barrel. For both chamberings the twist rate is 1:10.


Nesika Tactical: technical data


| | |
| --- | --- |
| Manufacturer: | Nesika, Sturgis – USA |
| Model: | Tactical |
| Type:  | Bolt action rifle |
| Calibers:  | .300 Win. Mag./.338 Lapua Mag. |
| Barrel length:  | 26-28 in/66-71 cm |
| Action: | Nesika Tactical |
| Stock: | Bell & Carlson |
| Muzzle brake: | AAC Blackout |
| Trigger: | Timney |
| Magazine capacity:  | 5 rounds |
| Average weight:  | 225.7 oz / 6400 g |
| Price: | on application |