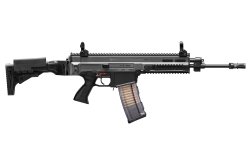 ASG - ActionSportGames A/S – a well-known Danish manufacturer of airsoft guns – holds the exclusive replica manufacturing rights for some of the world's best known gunmakers; new from the Company at the 2016 edition of the IWA expo was the final version of the CZ Bren 805 airsoft rifle. 
Powered through a standard AEG-grade rechargeable batter, the ASG CZ Bren 805 is an exact licensed replica of the Czech-made CZ-805 BREN A1 assault rifle, and adds to ASG's extensive line of CZ-based replicas, all manufactured under license and with full support and assistance from the Czech company. 
First showcased in its earlier, crude prototype form back at the 2015 SHOT Show, the ActionSportGames' CZ Bren 805 airsoft rifle is finally ready for mass production, and will be available in a Powerline and a Sportline variant – different in manufacturing materials and detail, as well as in price. The final retail price for the CZ Bren 805 will be announced when distribution kicks off – which is slated to happen later during the year.