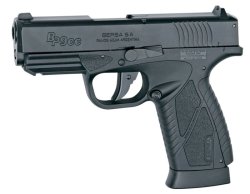 The Danish-based ASG - ActionSportGames A/S group, European leader in Airsoft, recently announced to have finally launched its full line of BERSA-licensed products. ASG will in fact start marketing its 6mm and 4,5mm, both blowback and non-blowback, replicas of the BP9CC semi-automatic pistol under full BERSA license. A lightweight, compact, ultra thin handgun, ASG's BERSA BP9CC replica sports an ergonomic design that improves line-of-sight. It is powered by a 12g CO2 cartridge stored in the grip using the easy-load system and the BB's are put in a removable stick magazine. An integrated picatinny rail allows for mounting of lasers or tactical lights. The grip and metal slide caries authentic BERSA markings and every gun comes with unique serial number.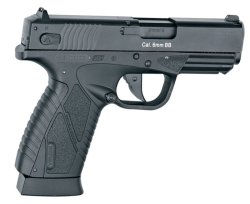 168mm long, featuring a 74mm barrel and a 15-rounds magazine, ASG's BERSA BP9CC replica uses standard 17310 magazines and features an adjustable Hop-Up mechanism. Muzzle velocity tops up to 125 meters-per-second (410 fps), for a muzzle energy that may reach up to 1,6 Joules. Overall weight tops 595 grams. Other features include a Picatinny accessory rail, a 3-dots sighting system, a threaded barrel for the attachment of a fake suppressor, and a manual safety switch.
The BP9CC (Concealed Carry) is the first polymer frame handgun from the Argentinian firearms manufacturer ARMAS BERSA S.A., known world-wide for producing reliable, affordable handguns. Since 1958, BERSA has been manufacturing accurate, reliable, and robust handguns, utilizing advanced firearms technologies paired with a history of innovation. The Argentinean Military, as well as law enforcement officials around the world, have routinely issued and relied on BERSA handguns as their official sidearm. BERSA is currently one of the largest privately owned corporations in Argentina.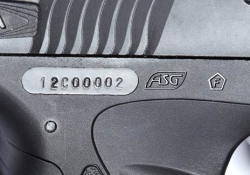 Based in Denmark, ActionSportGames A/S (ASG) is a worldwide leader in the business of replica firearms and accessories manufacturing – including Airsoft guns, Airguns, Co2 guns, Paintball markers, toyguns and firearms replicas. The group specializes in 1:1 scale replica guns and accessories for fun, action, sports, entertainment and collection; their assortment consists mainly of licensed models and exclusive sub-brands of ActionSportGames. The ASG - ActionSportGames A/S company was founded in April 2003 as a merger of the two largest Danish distributors of Airsoft Guns and accessories, Pedersen & Grobelnik A/S (founded in 1992) and Vestergaard ApS (founded in 1960). One of ASG's goals is to become the preferred supplier in the firearms replica business through worldwide license agreements, quality brands and premium service – before, during and after sales.
MSRP for the ASG Bersa BP9CC airsoft replica ranges around 150US$, VAT included – actual retail price may, and will, vary depending from retailers, Country of distribution, taxes, and other factors.

---
For further information
ActionSportGames A/S
Bakkegaardsvej 304
DK - 3050 Humlebaek 
Denmark
Tel.: +45-8928-1888 
Fax: +45-4919-3160