Air Maks Arms Caiman C and Katran CB: features and differences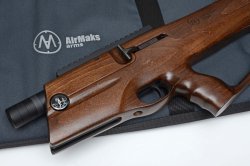 The first model is named Caiman C and is a compact version of the Caiman X model from the same manufacturer. The differences between the two models essentially consist in the barrel length and some other minor details. To briefly summarize, the Caiman is a pre-compressed pneumatic (PCP) air rifle in a bullpup configuration, which means that the breech and the feeding system are located in a very backward position inside the stock, and this allows to considerably reduce the rifle's overall length without necessarily reducing the length of the barrel. In fact, the Caiman C, even if fitted a 15.7"/40-cm barrel (manufactured by CZ), has an overall length of only 57.5 cm. The stock is available in two versions: walnut wood (like the model photographed) or laminate wood.

Power is provided by a 300-bar cylinder and a power adjustment device. The Air Maks Caiman C is chambered in .177/4.5 mm or .22/5.5 mm calibers (a .25/6.35 mm version is also available), and by virtue of its high power can't be purchased without a license in some countries.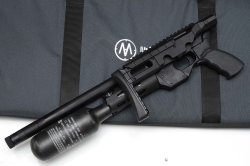 Now we come to the second novelty, the Air Maks Arms Katran CB, a gun with a more traditional aspect and action (so to speak) featuring a short barrel and folding stock. The barrel is in fact 11"/280 mm long, but  this does not imply any reduction in muzzle velocity consistency and accuracy. 
The folding stock allows you to reduce the rifle from a length of 30.5"/775 mm to 20.8"/530 mm. Also in this case the rifle is available in .177/4.5 mm, .22/5.5 mm and .25/6.35 mm, and given the high energy of the pellet (about 30 joules in 4.5 mm and 38 joules in 5.5 mm) in some countries requires a firearms license.

Also for this model, the working pressure is 300 bar, supplied by a 300 cc carbon fiber cylinder with the possibility of adjusting the power output. The magazine capacity in cal. 4.5 is 18 rounds, while in 5.5 is 16 rounds.

Air Maks Arms Caiman C and Katran CB specs
Manufacturer:
Air Maks Arms
Air Maks Arms
Model:
Caiman C
Katran CB
Calibers:

.177/4.5 mm, .22/5,5 mm, .25/6.35 mm   

.177/4.5 mm, .22/5,5 mm, .25/6.35 mm   

Overall Length: 

575 mm          

775-530 mm (folded)

Weight: 

2.45 kg  

2.3 kg

Barrel Length/Twist:  


400 mm/1:17.7       


280 mm/1:17.7

Air Cylinder Capacity (Max Pressure): 


190 cc (300 bar)        

 
300 cc (300 bar) 

Magazine Capacity:

.177/4.5 mm – 12 rounds .22/5.5 mm – 10 rounds          

.177/4.5 mm –18 shots , .22/5.5 mm – 16 shots,  .25/6.35 – 14 shots