Air Arms is a British company specializing in high-perfomance PCP air rifles designed for Field Target competitions and varmint hunting. At the SHOT Show they presented the prototype of what will henceforth be their flagship model for Field Target, namely the XTI50 model in .4.5 mm caliber with 16 joules of energy. The development of this model took three years and was completed thanks to the suggestions of many Air Arms shooters and customers.

Field Target is an outdoor shooting sport with air rifles that emulates hunting, with variable target distances (unknown to the shooter) up to a maximum of 50 meters. A good shooter must therefore know how to estimate ranges, and then adjust the optics to account for the 4.5mm bullet drop, which at the distances involved is considerable. The same goes for wind drift. .  

Air Arms XTI50 PCP air rifle details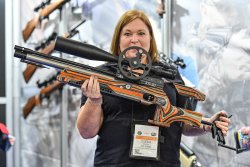 Franco Palamaro, © F.PALAMARO
The first thing you notice is the fully-adjustable, multi-colored, laminated wood stock with a cheek rest and a butt pad derived from Olympic air rifles. The metal plate you can see under the forend is in fact a telescopic support that allows shooters to rest the weapon on their knees with the desired angle. In fact, in Field Target shooting not only are the targets placed at distances unknown to the shooter, but they are often in an elevated position with respect to the shooting station. The Air Arms XTI50 is powered by a 250 bar titanium tubular air reservoir with built-in pressure gauge and pressure regulator. Among the innovations on the XTI50 we find a stabilizer that allows to drastically reduce recoil. The barrel is a fully-floating 19.44" / 494 mm long Lothar Walther one with titanium counterweight. The Air Arms XTI50 comes equipped with a dedicated optics rail, which is mounted very high. Other standard accessories include a bubble level.
The price of this real Rolls Royce of Field Target air rifles has not been determined yet.