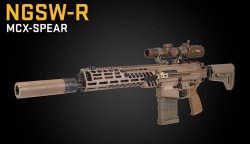 Another big score for SIG: a few hours ago, the U.S. Army announced "the award of a 10-year firm-fixed-price follow-on production contract to Sig Sauer, Inc for the manufacture and delivery of two Next Generation Squad Weapon variations (the XM5 Rifle and the XM250 Automatic Rifle) and the 6.8 Common Cartridge Family of Ammunition." 


"This award – the announcement continues – was made following a rigorous 27-month prototyping and evaluation effort that included numerous technical tests and soldier touch points of three competing prototype systems."

The Next Generation Squad Weapon (NGSW) is intended to select the new 6.8 mm weapons that from 2023 will replace both the M249 squad automatic weapon and the M4/M4A1 carbine, chambered in 5.56x45mm NATO.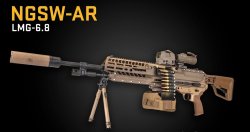 We already introduced the SIG Sauer NGSW weapons here on all4shooters.com. Together with SIG Sauer, General Dynamics-OTS and AAI/Textron had been awarded development contracts to supply prototypes of the new weapons. Textron then dropped out, while General Dynamics-OTS prototype, the RM277 bullpup rifle proposed for both the rifle and automatic rifle roles, was further developed by True Velocity subsidiary LoneStar Future Weapons and Beretta USA. The RM277 was configured to fire True Velocity's proprietary 6.8 TVCM composite-cased cartridge.
In the meantime, US manufacturer Vortex Optics was selected to provide the Next Generation Squad Weapon - Fire Control (NGSW-FC) system, designated as the XM157 Fire Control. The latter integrates a variable magnification optic (1X8), backup etched reticle, laser rangefinder, ballistic calculator, atmospheric sensor suite, compass, Intra-Soldier Wireless, visible and infrared aiming lasers, and a digital display overlay.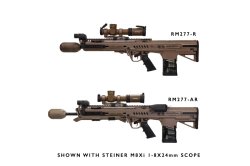 It is worth noting that, at the end of the day, the somewhat conservative SIG Sauer proposal – that fires a 6.8x51 cartridge featuring a "hybrid" brass case body with a steel base – has been chosen over the more innovative True Velocity/Beretta USA bullpup design and the polymer-cased 6.8 TVCM cartridge.
According to the U.S. Army press release, the value of the initial delivery order on the contract is $20.4 million for weapons and ammunition that will undergo testing, and the contract includes accessories, spares and contractor support. It also provides the other Department of Defense services and, potentially, Foreign Military Sales countries the opportunity to purchase the NGSW weapons.
Video: SIG Sauer NGSW systems
This video has been hidden because of an external service (YouTube) that could potentially collect personal data.Allow video services for the duration of the visitAllow video servicesStop allowing video services