Constant readers will most likely recall that we reported on the U.S. Army's NGSW program in the recent past. The current service weapons in the form of M4A1 carbines and M249 light machine guns in 5.56x45 are in fact to be gradually replaced by more powerful weapon systems in as little as two years. General Dynamics Ordnance and Tactical Systems, AAI Corporation Textron Systems and SIG Sauer are participating in the tender. The medium-caliber 6.8 mm with a "General Purpose Projectile" is ballistically between 5.56x45 mm and 7.62x51 mm, but is said to have little in common with Remington's already familiar 6.8 SPC (Special Purpose Cartridge) from 2002, while the bullet weight is also expected to be between 85 to 120 grains.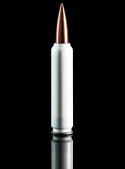 Polymer case logistical advantages

In August 2019, True Velocity was selected as a finalist for ammunition delivery by the US Army, and the first 6.8mm test ammunition was delivered to the military exactly one year later. Further tests are scheduled to run in 2021 before the Army decides on further contracts under the NGSW program. The major advantage of ammunition with polymer rather than brass cases is the 30% reduction in weight, which greatly improves transportation logistics in military units. According to the manufacturer, up to 27 million cartridges based on the True Velocity design can be produced annually in a 245-square-meter modern production facility.