Tactical73 introduces its new "T73 family" of rifles and pistol caliber carbines. Headquartered in the small Italian town of Venaria Reale, at the outskirts of Turin, the Tactical73 S.r.l. Company is known to shooters as an importer and distributor of firearms and accessories manufactured by several highly regarded American brands, including PWS, Strike Industries, Masterpiece Arms, Lucid, Arredondo, and many more. But it has also established itself as a reference point for professionals and civilian modern sporting rifle shooters − particularly AR-15 owners − both in Italy and in the rest of Europe.
In 2015 the Company launched its first own, custom rifle, a bolt-action tactical model dubbed the TUS Mod.1 ("Tactical Urban Sniper") and conceived both for long-range target sports shooters and to suit the needs of military and Police operators that may be called in to respond to critical situations in urban environments.
The newly introduced T73 family is composed by the T73-MOD 1 EVO and  the T73 - MOD. COMPETITION rifles, and by the 9 mm T73 - MOD. TAC 9 (available in the standard upper or side charging handle versions).
T73-MOD 1 EVO and T73 - MOD. COMPETITION rifles: features and available calibers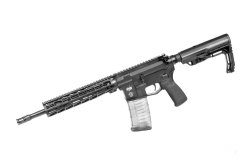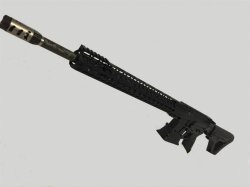 The T73-MOD 1 EVO is chambered in .223, .300BLK and 7.62x39. It can be equipped with different barrel lengths (12", 14.5", 16", 18" – but there's only a 16" barrel option for the 7.62x39). 
Lower and upper are US-made billet, machined in-house by Tactical73. Stock is a MFT Minimalist Mil-Spec. Grip is also MFT. Small Parts, Trigger, Safety, Trigger Guard, Magazine Catch, Bolt Catch are all Mil-Spec.
The T73 - MOD. COMPETITION is equipped with a 20" carbon fiber barrel, and is chambered in .223 only.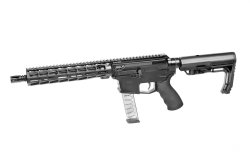 The T73 - MOD. TAC 9 is an interesting weapon in 9mm (9x21 for the Italian market) sporting a 10.5 in barrel and MFT stock and grip.
Like the rifles, small parts, trigger, safety, trigger guard, magazine catch, bolt catch are Mil-Spec. Upper is 4150 alloy steel with Quench polish quench (QPQ) finish.
Both the MOD 1 EVO and the MOD. TAC 9 feature a translucent magazine.
Prices of the new "T73 family"
Prices are 1.392,63 euros for the MOD 1 EVO and 4.008,20 euros for the MOD. COMPETITION. For the MOD. TAC 9 the pricetag is 1.392,63 euros (side charging handle version) or 1.310,66 euros for the standard upper version.