Tactical 73 is an Italian company that offers a range of very interesting AR-15 type rifles  as well as some pistol models. The object of these lines is a gun dedicated to IPSC and IDPA shooting, built on a composite double-stack STI 2011 frame and equipped with the best components on the market.

A double-stack modular frame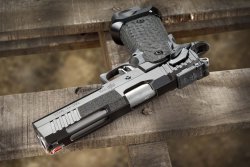 The 2011 frame actually consists of two parts, one stainless steel and one polymer, that can be detached and are independent of each other. All the stress is carried by the metal part on which we find the slide guide rails, the lower Picatinny rail and the through holes for all the pins on which hammer, safety and slide stop lever rotate. The polymer section is the actual grip, which can be easily separated from the metal one and replaced with an aftermarket version, as in the case of the TAC11 2011 that features an Extreme Shooters grip with non-slip Dragon Scales checkering, on which an oversized Ed Brown grip safety is fitted. The flat-faced trigger is produced by German specialist Geppert, and operates an EGW trigger assembly.
Selected components
For the TAC11, the best components on the market were selected, starting with the Swenson ambidextrous safety lever and the oversized magazine release button.
The 5-inch barrel of the TAC11 2011 is manufactured by KKM, a leading US manufacturer of premium stainless steel match barrels. The spring guide rod is a long Wilson buffer type.
The slide is the result of Tactical 73's customization work and features front and rear cocking serrations and lightening cuts. The sights consist of a micrometrically adjustable Kensight rear sight and a Dawson front sight with red fiber optic insert.

The capacity of the double-stack magazine is 20 rounds in 9mm caliber. Being an exclusive product, price is on request.