SIG Sauer first unveiled their new SLMAG medium lightweight machine gun last October at the 2018 AUSA exposition, the annual meeting and exposition of the Association of the US Army. At the SIG Sauer range day in Las Vegas, just before the SHOT Show 2019, the all4shooters Team had the chance to see it in action and take some exclusive photos.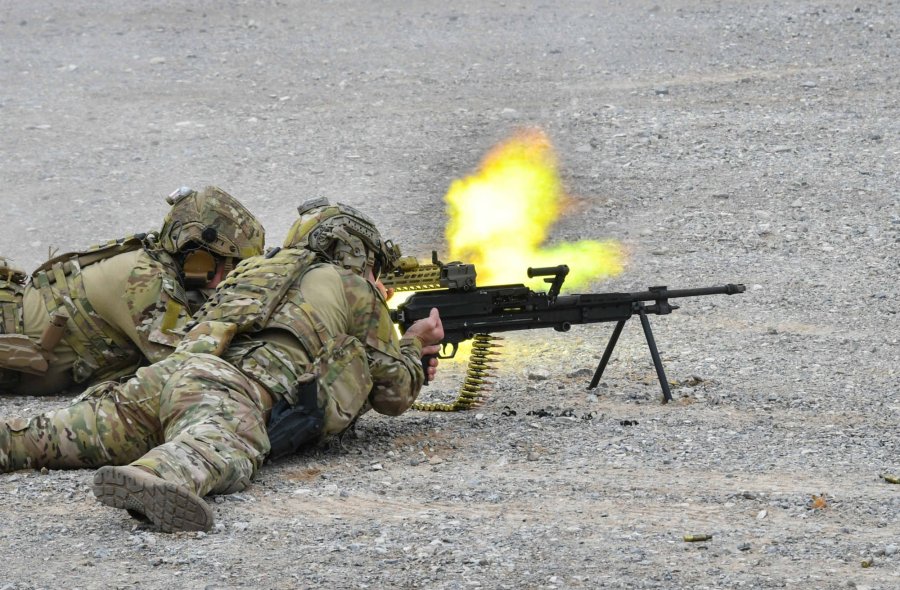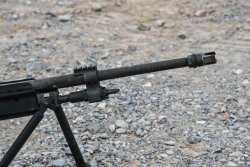 The gun we saw at Las Vegas was chambered in .338 Norma Magnum. Designed by David Steimke, SIG's senior mechanical design engineer, the new weapon is actually a multi-caliber design allowing for user level conversion between calibers in a few minutes. Three gas settings – Normal, Adverse, and Suppressed – allows for optimization even for suppressed fire. 
As can be expected from a state-of-the-art modern gun, the new SIG Sauer SLMAG is fully ambidextrous. Not only as far as controls are concerned: it can be adapted to feed (and eject links and spent cases) from left or right by simply punching out a roll pin to reverse the feed paws. Moreover, there's no top feed cover to open to insert a new link on the feed tray – you just have to push the link into the feed tray from the side feed port. 
Equipped with a folding and adjustable stock, unlike less modern machine guns the SLMAG also features "M-LOK" rails on the underside for attaching accessories.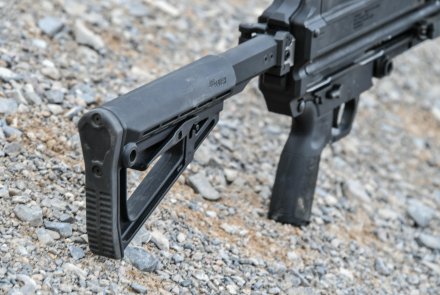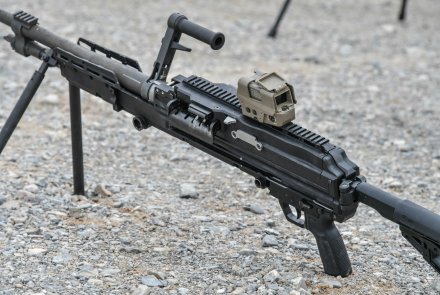 SIG Sauer SLMAG: ready for the US Army NGSW program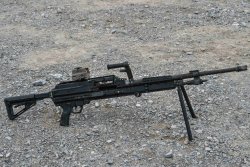 The SLMAG has many more – and more interesting – virtues. First of all, weight: SLMAG stands for "SIG Light Machine Gun" and thanks to its extensive aluminum construction, it reportedly weighs in under 20 lb / 9 kg including bipod, some 7 lb less  than the M240B – the US version of the Belgian FN MAG and current US issue general-purpose machine gun. As the manufacturer explains, "Today's soldiers are required to carry anywhere from 90 to 140 pounds in combat. This heavy burden hampers mobility, increases fatigue, reduces performances an can lead to long term injuries. Studies also show that heavier loads reduce situational awareness, slow reaction times, and make warfighters more susceptible to enemy fire. SIG's SLMAG is designed to reduce the burden on soldiers while still delivering increased capability and lethality."
Then there's the range: the SLMAG in .338 Norma Magnum has an effective range of 2000 metres, with a rate of fire of 600 rounds per minute. 
Lastly, recoil: thanks to its recoil attenuation/mitigation system, SIG claims that SLMAG's felt recoil is under 5 ft-lb (by comparison, recoil energy associated with the M1 rifle in .30-06 is around 12 ft-lb), which should allow troops to be more accurate with their initial salvo of fire and follow-up shots, being consequently able to engage targets at far greater stand-off distances.
But what's the ratio behind the SLMAG design?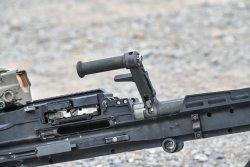 Admittedly, it seems to be a very sound proposal. However the new gun has been clearly developed with the US military needs in mind. Over the last few years the US Army and US Marine Corps have been radically, albeit confusedly, revising their machine gun doctrine both for medium MGs and squad automatic weapons. It's not coincidence that the latest SIG's machine gun can be easily modified to chamber the new XM1168 6.8mm GP round for the Next Generation Squad Weapon (NGSW) program, the planned replacement for the 5.56x45mm M249 Squad Automatic Weapon.