In the last few months Savage has been introducing some interesting new products that were also brought to the IWA 2022 fair in Nuremberg, Germany.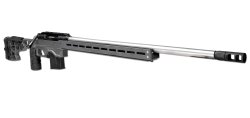 Among them, a precision version of the Impulse straight-pull bolt-action rifle called Elite Precision, the new 110 Carbon Tactical rifle and the 110 PCS (Pistol Chassis System), a new version of the well-known 64 semi-automatic rimfire rifle, plus the new A17 Sporter rimfire rifle in .17 WSM caliber.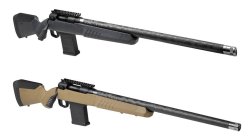 Built on the proven MDT ACC fully adjustable aluminum chassis, the Impulse Elite Precision – "the newest long-range tack driver" as they aptly describe it at Savage – is optimized for PRS competition and long range shooting and is available in 6mm Creedmoor, 6.5 Creedmoor, 6.5 PRC, 308 Winchester with a 26"/66 cm barrel, and in 300 Winchester Magnum, .338 Lapua and 300 PRC with a 30"/76 cm long barrel. Other features of the Impulse Elite Precision include AICS magazines, integrated Picatinny rail with 20 MOA tilt, adjustable trigger and a threaded muzzle that allows for the mounting of compensators and muzzle brakes. The bolt handle is ambidextrous and multi-positional. The Arca rail forend features M-LOK slots too. 
The new 110 Carbon Tactical rifle is designed for hunting and sport. It features a Proof Research stainless match barrel with carbon sleeve and muzzle thread, adjustable AccuFit stock with AccuStock aluminum bedding, adjustable AccuTrigger and a one-piece 20 MOA Picatinny rail. It is available in 6.5 Creedmoor and 308 Win. (56 cm barrel) and 6.5 PRC (61 cm barrel) in the stock colors gray or FDE (Flat Dark Earth).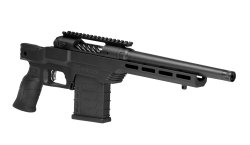 Not a real novelty – it was already introduced a couple of moths ago – but still based on the 110 bolt-action system, the 110 PCS (Pistol Chassis System) pistol has the same features mentioned above but with a 10.5"/266 mm barrel and an AR-15 compatible grip. The 110 PCS is available in the 223 Rem., 6.5 Creedmoor, 300 Blackout, 308 Win. and 350 Legend, each with 10.5"/ 26,7 cm barrel with muzzle thread. 

Also worth mentioning, the 64 Precision. Ideal for dynamic rimfire disciplines, the 64 Precision version has a synthetic chassis with M-LOK compatible forend, AR15 grip, one-piece Picatinny rail and a 16.5"/ 42 cm barrel with 1/2x28 muzzle thread. It is available with a 10 or 20-round magazine and in black and FDE (Flat Dark Earth) stock colors. 
Last but not least, Savage has added a .17 WSM rimfire model to its A17 rimfire autoloader range: the Sporter variant features a gray laminated wood stock (also available for left-handers) and the Target Thumbhole stock variant for right-handers. Barrel is 22"/56 cm long, and the magazine holds 8 rounds.