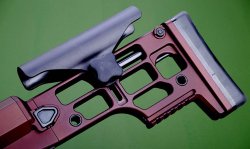 The Barrett MRAD (Multi Role Adaptive Design) is a precision rifle designed just the way the US military wants it. It strongly resembles the BARRETT 2008 Model 98B, but has a folding stock and a larger selection of barrels: three lengths with 51, 62 and 69 cm, either as heavy barrel or, as for the test rifle, fluted. But always with a 238 mm twist rate (1:9.35 inch) and here via a 3⁄4-20 inch UNF-muzzle thread reinforced with double chamber brake. A locking sleeve is screwed onto the cartridge chamber. This accepts the counterpart for the locking lugs. The seating of the 3,190 gram barrel in the receiver runs over the entire surface area of the rifle. The stock is made of high-strength aluminum alloy, here anodized dark brown. The octagonal cross-sectioned fore-end has a long, ventilated hand guard and a Picatinny rail.
The MRAD proves to be very well-made in every sense and is a feast for the eyes for all fans of high-tech repeaters. Its stock offers sufficient adjustment options, and the muzzle brake operates effectively. 
The trigger characteristic may be idiosyncratic, but it produced good shooting results – also at the far more meaningful 300-meter range: cartridges 1 to 4 delivered groups of 53 to 33 mm; the best score was obtained with the Hornady cartridge. The first-choice buy is the rifle with the 26 inch barrel: magnum cartridges demand long barrels to develop their energy. A stable ground spade would have been good.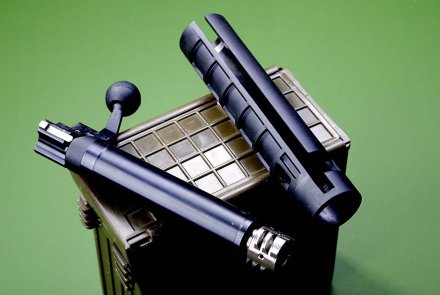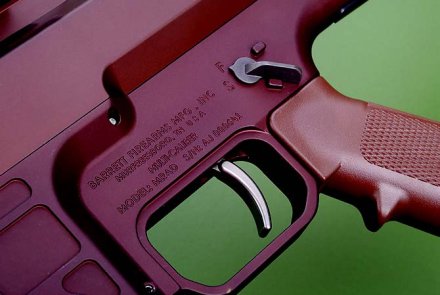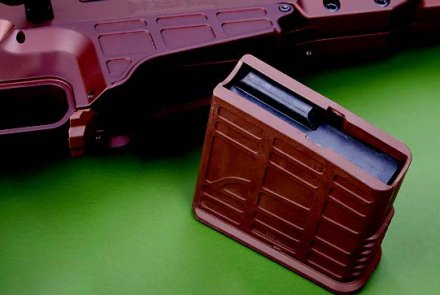 All in all: a very good rifle. Conceived especially for the military and services, it will probably also appeal to some sport shooters – even though the price of €7,900 hits the wallet hard.
Range of uses for the Barrett MRAD
The Barrett MRAD fulfills all the expectations of a good weapon for the military and services. It is less suited for sport and hunting.
| | |
| --- | --- |
| Model: | Barrett MRAD |
| Price: | € 7.900 |
| Caliber: | .338 Lapua Magnum |
| Capacity: | 10 + 1 cartridges |
| Barrel lenght: | 688 mm (twist 1:9.35") |
| Total lenght: | 1.055 / 1.258 mm |
| Trigger weight: | 1.370 g |
| Weight: | 6.850 g |
Features: Bolt with nine locking lugs, fluted match barrel, muzzle brake, folding shaft, pistol grip, long and short Picatinny rails
Shooting test: Barrett MRAD in .338 LM
| | | |
| --- | --- | --- |
| No. | Factory cartridge | Grouping |
| 1 | 250 grs Lapua Scenar GB488 | 21 (15) mm |
| 2 | 250 grs MEN Sniper Line Match | 27 (19) mm |
| 3 | 250 grs RWS Target Elite Plus | 22 mm |
| 4 | 285 grs Hornady Match BTHP | 23 mm |
Remarks: Grouping = five-shot groups, shot sitting from the bench rest support at 100 m distance, reported in millimeters, measured from the shot-hole centers. Bracketed values after subtraction of one outlier
Abbreviations / bullet codes: BTHP: Boat Tail Hollow Point 
VISIER Evaluation of the BARRETT MRAD 
| | |
| --- | --- |
| VISIER Evaluation | Points |
| Precision (max. 50 points) | 46 points |
| Stock (max. 10 points) | 10 points |
| Trigger (max. 10 points) |  8 points |
| Magazine/Handling (max. 5 points) |  5 points |
| Sight (max. 5 points) |  4 points |
| Receiver/Function (max. 10 points) |  8 points |
| Finishing (max. 10 points) | 10 points |
| Total points (max. 100 points) | 91 points |
| Test result | excellent |
| Commendations | ****** (6 di 6 commendations) |