It took more than a century to find the name Savage and the M1911 pistol once more on the same page – literally.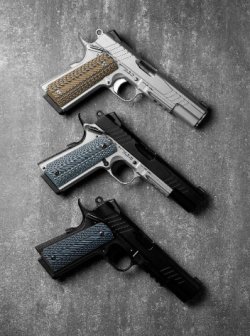 During the 1907 U.S. Army pistol trials, the Savage Model 1907 in .45 ACP was one of the finalists that ultimately lost to the Colt. 
This time, it's the 1911 itself "being given the Savage treatment". 
The well-known gun manufacturer is in fact launching its own line of full-size 1911-style semi-auto pistols, with no less than 12 different options. 
The new Savage 1911 is in fact available in three finishes – Black Melonite, Stainless Steel and Two Tone – , with or without accessory rail, and chambered in .45 Auto or 9mm.
This video has been hidden because of an external service (YouTube) that could potentially collect personal data.Allow video services for the duration of the visitAllow video servicesStop allowing video services
Savage 1911, a classic built for hard use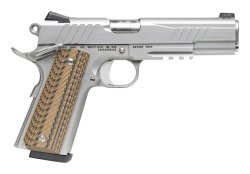 Let's see what all these models have in common. Overall, the design is firmly inspired to the most classic 1911 lines and mechanics (which means it's a single-action pistol), but frame and slide here are forged stainless steel, with the slide featuring rear & front serrations. The 5" barrel with 11° target crown is machined from stainless steel billet, while sear and disconnector are machined from tool steel. The rowel hammer is stainless steel. The titanium firing pin is nitride coated.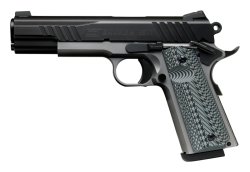 The oversized thumb safety is ambidextrous, and the ejection port is lowered and flared to ensure flawless cycling, as well as the dual recoil spring with GI style guide rod and barrel bushing: being intended as a gun to be carried, the Savage 1911 is designed to deliver accuracy and reliability. In the grip area, the generously-dimensioned beavertail adds some comfort and protection against the dreaded 1911's hammer bite.
Novak Lo-Mount sights include an adjustable tritium bar rear sight and tritium Mega Dot Glow Dome Yellow front sight. (On non-railed stainless-steel and Black Melonite models, you will find a Novak Lo-Mount black rear sight paired with a white-dot front sight instead.) Grips are VZ G10.
As mentioned, options include 3 colors and two calibers, 45 Auto or 9mm. Each color/caliber combination is available with or without dust cover accessory rail. Single stack magazine capacity is 8 (45. Auto) or 10 (9mm) rounds, released by operating a classic round push button. Prices range from $1,349.00 to $1,499.00 (w/ two magazines), depending on the model you want.
Savage 1911 specs and price
| | |
| --- | --- |
| Caliber: | .45 Auto or 9mm |
| Barrel Length:  | 5"/127 mm |
| Barrel Twist:  | 1 in 1:10 RH |
| Barrel Material:  | Stainless Steel |
| Magazine Capacity:  | 8 (.45 Auto) or 10 (9mm) rounds |
| Frane Material:  | Stainless steel |
| Slide Material:  | Stainless steel |
| Grips: | G10 |
| Trigger Action:  | Single |
| Sights:  | Adjustable tritium bar rear and tritium front or black rear and white-dot front |
| Prices (MSPR in the U.S.):  | From $1,349 to $1,499 |