It seems the hour of redemption has come for the 10mm Auto: Springfield Armory has announced two new models of its 10mm TRP series 1911 pistols, the 1911 TRP 10mm RMR with 5 in / 127 mm barrel and a long slide version with a 6 in / 152 mm barrel, both equipped with a Trijicon Ruggedized Miniature Reflex (RMR) sight. These new versions add to the standard 1911 TRP model, which was already offered in .45 ACP and 10mm calibers.
After some year of neglect, the powerful cartridge that was originally designed by the venerable Colonel Jeff Cooper, then reduced and redrafted as the .40 Smith & Wesson, is gaining popularity again in its original form. It looks like it, at leat, judging by the number of new revolvers and pistols being chambered for it.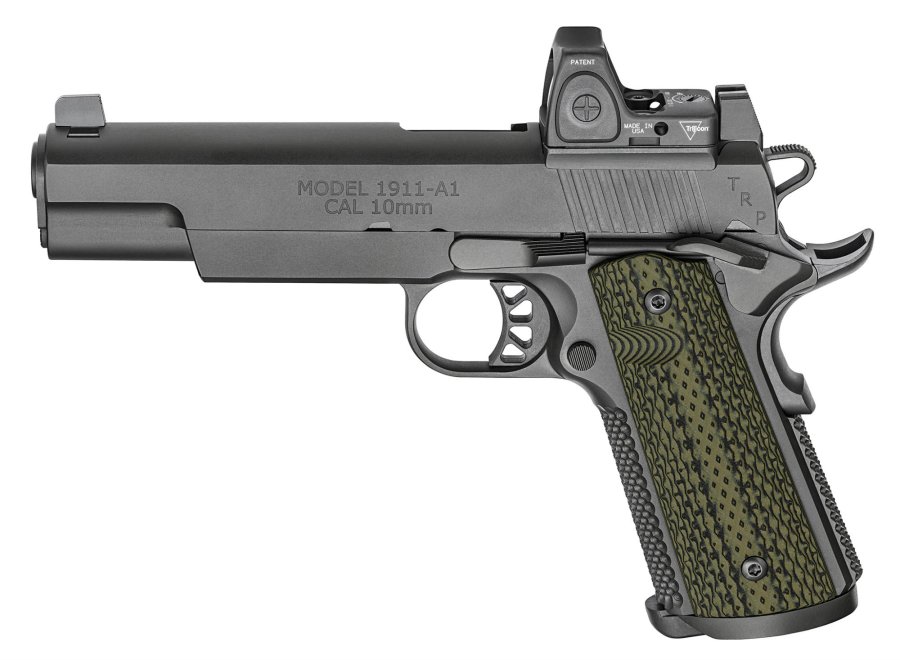 Springfield Armory 1911 TRP 10mm RMR: features
The TRP in the name stands for "Tactical Response Pistol", and Springfield Armory's TRP series is "designed to work under the worst conditions you'll encounter", according to the manufacturer. These guns feature in fact a forged national match frame and slide mated to a match-grade, stainless steel, fully supported barrel. Trigger pull is 4.5 – 5 lb.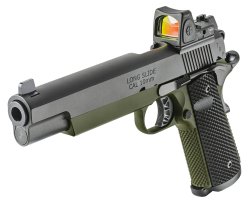 The new 10mm RMR iterations are available with a Trijicon Ruggedized Miniature Reflex sight specifically milled into the slide and crafted from 7075-T6 aluminum to mil-spec standards. The reflex sight also has a patented shape that absorbs impacts and diverts stresses away from the lens, increasing durability. Night sight are integrated.

The standard 5-in barrel version mounts green & black G10 grips for a total length of 8.6 in / 218 mm, while the long slide version sports black G10 grips for a total length of 9.6 in / 244 mm. 
The magazine is the same for both models, a stainless steel 9-round type with slam pad. Frame and slide have a Black-T finish – for the long slide version the frame has a Black-T OD-Green Finish. 
Price is 2,507 USD for the 5-in version and 2,558 for the long slide version.