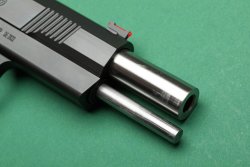 About a decade ago, the International Practical Shooting Confederation (IPSC) introduced the Classic Division. As a replacement for the very special Modified Division, which was mainly home to 1911 high-capacity pistols in .40 S&W with compensator and red dot sights that had to fit into a box measuring 225x150x45 mm (L/W/H), it was intended to ensure more influx into the dynamic shooting sport. Even if this concept has not quite worked out in view of the number of starters, the Classic Division is IPSC in its purest form for fans of the traditional 1911. Here, the "back to the roots" credo is actually lived out on the firing range, because you basically fight for points with the same equipment and lots of magazines on hand that started it all over 40 years ago. But how much "Classic" the Classic Division still is today is a matter of debate. If you were to stick to the original calibers, strictly speaking only the expensive major calibers such as .45 Auto or .38 Super Auto would be allowed to play. In this respect, the world umbrella organization has done well to include the inexpensive 9mm Luger as a minor caliber. Even though they have limited the length of the dust cover, the frame has often not stayed with the slim original design of yesteryear, since more massive frames are supposed to physically reduce muzzle flip. Barrel length has also mostly not remained the original 5"/127 mm, and bull barrels without a traditional bushing are meant to add more front-end heft to the steel classic. Of course, it was foreseeable that resourceful gunsmiths working around the rules and regulations would explore every avenue to build the supposedly best sporting gun for this discipline, and the circle closes with the STP Perfect Classic 5.4 presented here. Let's see what Karl "Tscharlie" Prommersberger has come up with for the latest model.
STP (Sport Target Pistol) Perfect Classic 5.4 in 9 mm Luger from Prommersberger in detail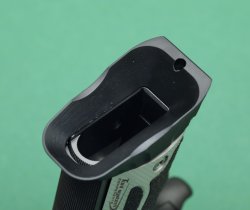 The new pistol will displace the previous Perfect Classic model from the catalog of the German manufacturer STP. Probably the most important change here is the lengthening of the barrel length to 5.4"/133 mm. This unusual barrel length has been encountered from time to time in IPSC competitions for quite some time, and it has to do with the already mentioned box dimension rule of the IPSC Standard and Classic Division. Here, the pistols must fit into the described box with the magazine inserted and the hammer cocked. This results in this unusual barrel length, which takes advantage of every last millimeter. For all precision shooters who have never quite been able to decide between the aesthetically usually nicer 5"/127 mm guns and the longslide models with 6"/152 mm barrels, which offer a longer sight radius, perhaps the ideal compromise is here. Visually, the silver aluminum grip panels from Italian tuning company Toni Systems go well with the black DLC coating. The slightly convex grips have a skateboard-like grip tape coating and fit so snugly that the screw fixing is actually redundant. The special hexagonal slide contour also matches the solid frame with angular trigger guard and slightly slanted dust cover front.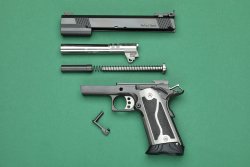 The approximately 17-mm thick bull barrel is exactly flush with the slide front. When slowly opening and closing the slide, you can already acoustically perceive that the barrel locks into the breech with suction. Together with the tight fits between the frame and slide, this raised hopes for minimalist groupings. To ensure that these can also be achieved when shooting free hand, the trigger must not disappont. With clean characteristics and an average pull weight of around 1,100 grams, about half of which is accounted for by the first stage, it did not. So here, too, no wishes were left unfulfilled. The left-side thumb safety was designed to be large, while on the right side it is the standard size. Our test gun, set up in 9x19, is of course also available in major calibers such as .40 S&W or .45 Auto. The STP Perfect Classic 5.4 is shipped in a red nylon pouch, unfortunately without another metal magazine. Lightning-fast magazine changes are aided by the aluminum magwell featuring a decorative molding, on which shooters with large hands can also find a resting surface. A visit to the shooting range should prove whether the STP Perfect Classic 5.4 also cuts a perfect figure there.
On the shooting range with the Sport Target Pistol Perfect Classic 5.4 from Prommersberger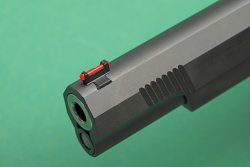 With ten loadings ranging from 95 to 147 grains, from full metal jacket to copper-plated and hollow-point bullets, the test gun was to show what it was made of. We were not disappointed. The best results were achieved with the Norma 124-Grain Safeguard, whose  17-mm diameter 10-shot group can easily be covered with a 2-euro coin. Naturally, we wanted to know what was left of it at the 50-meter distance. The hollow point bullet of the factory ammunition, actually intended for defensive purposes, delivered a respectable group of 48 mm at this distance. With a factor/MIP of 133/263, it even turns out to have very moderate firing behavior. The cartridge from the Swedish manufacturer is available from some dealers for around 18 euros for the box of 50, which is quite affordable nowadays. Second place with 28 mm was taken by our handload with a 115-grain H&N bullet, and the GECO 124-grain FMJ with 30 mm did hardly worse.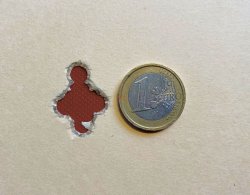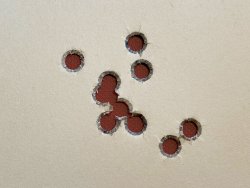 Tight groupings, like the high performance of a sports car, are gladly emphasized, but cannot be achieved by everyone. Therefore, in our opinion, compatibility with many types of ammunition plays a weightier role. And there the Perfect Classic had enough to offer. Many groups settled in the 30 mm range, so that the calculated average accuracy value of all ammunition types was a very appealing 35 mm. Our test gun even managed well with "good and cheap" loads such as the GECO 124-gr FMJ or the S&B bulk pack, and these are probably the ammunition types that ultimately end up in the bullet trap the most due to the favorable price. There were no malfunctions despite the many different bullet shapes with sometimes very short cartridge lengths.
STP Perfect Classic 5.4 specs and price
Model:

Sport Target Pistol (STP) Perfect Classic 5.4

Caliber:

9mm Luger

Magazine Capacity:

10 rounds

Frame:

Steel, black DLC coated

Slide:

Steel, black DLC coated


Barrel Length:


134 mm


Rifling Lands-Grooves Diameter:


8.86-9.04 mm

Rear Sight:

2.9 mm, micrometer adjustable

Front Sight:


2.8 mm, with red fiber optic insert


Sight Radius:

192 mm

Safeties:


Thumb safety lever on both sides, grip safety 


Trigger Action, Pull Weight/Span:*


SA, mean 1,071 g, 59 g


Lock Time:*

5 ms

Total Weight (incl. Magazine):

1,296 g

Dimensions (LxWxH):

224x40x150 mm

Extras:

Nylon bag, ceramic lubricant, tool

Price (RRP in Germany):

3,400 euro

* Mean of 10 measurements with the Trigger Scan System

Our test conclusion on the Sport Target Pistol Classic 5.4 in 9mm Luger
Even though the Perfect Classic 5.4 was actually tailor-made for dynamic IPSC shooting, it is much too good for that alone. Its good inherent precision, the superb trigger and also the long sight radius make the gun attractive for static precision shooting and many other disciplines as well. It is nice that in our time there is also something that has not become more expensive: thus, as with the Perfect Classic 5.0 predecessor, the price in Germany is 3,400 euros (as usual, price may be different in you country, so check your local retailer).