Target sights, a polished feed ramp, custom grips with a thumb rest: these are the most interesting features of the Smith & Wesson  22 Victory Target Model, the new .22 LR pistol that expands the SW22 Victory lineup first introduced in 2015. 
The new model comes from a specific customers' request for a SW22 Victory version with target grips and sights to provide an ideal target shooting pistol. This does not exclude that, like any .22 LR handgun, it can be used for hunting – where allowed by law – and unassuming recreational shooting too.
SW22 Victory Target Model: the details make the difference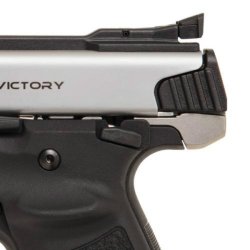 As said, no revolutions here but just some little new details that are enough to turn the already appreciated S&W's semi-auto "plinker" into a real "target pistol". 
First of all, a black blade front sight and an adjustable, target-style rear sight, coupled with new grips with thumb rest. The latter are included for both left & right hand shooters, while a standard flat grip is also included to use on opposite side. 
Lastly, the polished feed ramp ensures a smooth chambering of rounds and a more reliable cycling with the notoriously "fickle" .22 LR cartridges.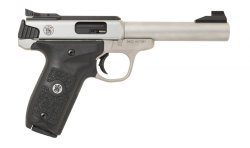 Otherwise, the Target Model shares the same features of the SW22 Victory family. It is a single-action, enclosed hammer-fired, blowback semi-automatic design with a match-grade, interchangeable bull barrel, beveled magazine well, and Target trigger with adjustable trigger stop. The frame is stainless steel. A Picatinny-style rail is included for the mounting of optics.
The price is just a bit higher than standard SW22 models, at 429 USD, complete with two 10-round magazines. But still, it's a very affordable target gun.
SW22 Victory Target Model: technical data
| | |
| --- | --- |
| Model:  | SW22 Victory Target Model |
| Caliber:  | 22 LR |
| Action:  | single action |
| Barrel length: | 5.5 in / 140 mm |
| Overall length:  | 9.2 in / 233 mm |
| Sights: | front - black blade, back - square notch black blade |
| Weight: | 36.0 oz / 1,020 g |
| Magazine capacity:  | 10+1 |
| Price:   | 429 USD |