Smith & Wesson improves and upgrades its M&P Shield family. The new M&P 2.0 Shield pistols have officially debuted even on Smith & Wesson website, where they can be found in ten different versions. The new pistols got the same improvements of the Military & Police M2.0 series which debuted earlier this year, with a new rough texture for the grip and a crisper trigger group which also have a better reset. But they also feature a new integrated Crimson Trace laser as an optional.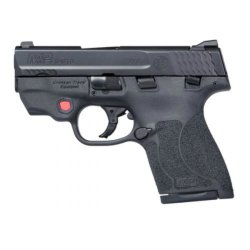 The polymer-framed, striker-fired, Browning-type locking system semi-automatic M&P pistols were originally introduced in 2005. Designed for personal, sporting, and professional use, the M&P M2.0 series displays innovative features with its extended stainless-steel chassis and high grip to barrel bore axis ratio for reduced muzzle rise and faster aim recovery. The M&P M2.0 pistols also feature a fine-tuned, crisper trigger, lighter pull and a tactile and audible reset. The M&P Shield version is an easy to conceal pistol: "We took the power and features of our full sized M&P pistols and put them into a slim, lightweight pistol the size of your hand", is the Manufacturer's claim.
Available in 9mm and .40 S&W caliber, the M&P 2.0 Shield pistols are thin and lightweight - between 18.1 oz (513.1 g)  and 18.8 oz (533 g), depending on the version. Different options are the frame-integrated Crimsom Trace and the manual safety. 
Front and back sights are steel with white dots, but these can be substituted with tritium sights.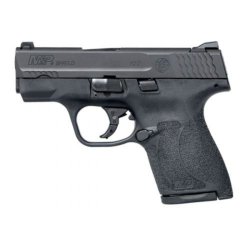 Features common to all the M&P 2.0 Shield pistols are the new crisp trigger with lighter trigger pull, the patented take-down lever and sear deactivation systems that allow for disassembly without pulling the trigger, an optimal 18-degree grip angle for natural point of aim, the Armornite durable corrosion resistant finish for barrel and slide, and a 3.1" (79mm) barrel. They are shipped with two magazines, one 7-round magazine and one 8-round extended grip magazine for the 9mm versions and one 6-round magazine and one 7-round extended grip magazine for the .40 S&W.

Suggested prices range from 479.00 USD (406 euro) to 499.00 USD (423 euro) for the Crimson Trace laser equipped pistols. The M&P 2.0 Shield with tritium night sights, both 9mm and .40S&W, is priced at 579.00 USD (491 euro).