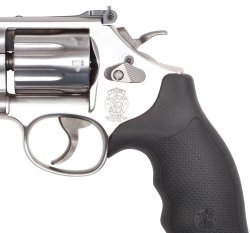 Heart-warming news for you wheelgun lovers: the celebrated Model 648 revolver is back! It was first presented in 1989 and – for obscure reasons, as often happened in those years with Smith & Wesson's production models – discontinued in 2005, much to the chagrin of fans. With its good accuracy, great sights and a very mild recoil, the Model 648 in fact introduced many to shooting. Now S&W's announces that it has finally brought back this model. 
Chambered in .22 WMR and built on Smith & Wesson's medium K-frame, the DA/SA action  stainless steel Model 648 features a 6-inch full underlug barrel, an 8-round capacity and is designed for small game hunting. It's also ideally suited to target shooting and recreational shooting: rear sight is adjustable and is coupled to a Patridge front sight for enhanced accuracy when shooting at longer ranges. The black synthetic grips have finger grooves. 
S&W Model 648, also for longer ranges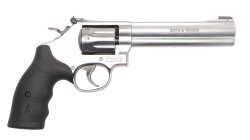 "The Model 648 is back in production to satisfy the needs of handgun owners who are looking to achieve greater distance while hunting or target shooting," says Jan Mladek, General Manager of Smith & Wesson and M&P brands. "With a full underlug six-inch barrel and a patridge front sight, the Model 648 has been designed with features to boost accuracy at longer distances. While we currently offer .22 Magnum revolvers in both our J-frame and Classics line, we are excited to add this new .22 Magnum revolver to the modern K-frame lineup."
Smith & Wesson Model 648 in .22 Winchester Magnum Rimfire is available with an MSRP of 749 USD (price may vary in your country).