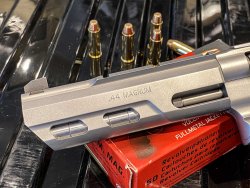 Let's face it, competition shooting revolvers are an increasingly niche product, at least in Europe. But their appeal remains intact even now that with their polymer frames, high-capacity magazines and integrated red dot optics, semi-automatic pistols seem to have won over most sports shooters. Wheelguns still take the lion's share in Western shooting competitions, but that's a meagre consolation.

Every now and then, however, some new product appear on the market, such as the Smith & Wesson 629 Competitor that we introduce in these article. It's the most recent incarnation of the .44 Magnum caliber 29 model presented on the market in 1955. In 1979 the stainless steel version saw the light of day, receiving the suffix "6" according to the Smith & Wesson model number system. Over the years, the 629 revolver was also produced in special versions by the in-house Performance Center.
A revisited classic – with an innovative feature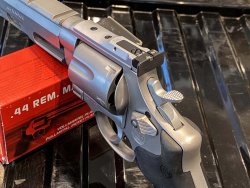 The latest of these "Formula One" guns is the 629 Competitor model, a beefy .44 Magnum caliber revolver with a six-inch barrel, designed for competition shooting. The main feature of the 629 Competitor is the possibility to add weights below the barrel, inserting up to five steel cylinders fixed with a bolt into the barrel shroud. This way you can adjust the weight of the revolver to your taste. With the complete weights set inserted under the barrel, the 629 Competitor stops the scale needle at just 57.2 oz/1621 g. Also included in the package are a series of plastic cylinders, which are of negligible weight and can be used in combination with or in place of the steel ones if you prefer a lighter revolver.

The Smith & Wesson 629 Competitor's impressive cylinder holds six .44 Magnum caliber cartridges and can accommodate even the quieter .44 Special.
Sights are replaced by an adjustable LPA rear sight and a dovetail-mounted Patridge type front sight on the barrel shroud. The top strap is drilled an tapped for scope mounts, while on the shroud is a Picatinny rail for the mounting of... anything.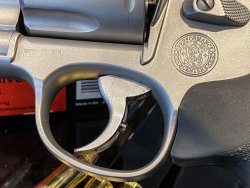 Trigger is single/double action, tuned by the Performance Center, featuring a trigger stop that eliminates any overtravel. The grip is one piece black synthetic rubber, manufactured by Hogue, a true specialist in the field, and helps to make the revolver easy to control.
Finish is matte silver, with chrome hammer. The 629 Competitor is certainly a gun of yesteryear, that takes us back to the era of PPC shooting competitions, a sport that gave rise to Dynamic Shooting. It should be added that does also exist a .357 Magnum version with similar features, the 686 Competitor.

In the US, the 629 Competitor is sold at a retail price of around 1562 USD.

Smith & Wesson 629 Competitor specs and price
| | |
| --- | --- |
| Model: | 629 Competitor |
| Caliber: | .44 Remington Magnum |
| Barrel Length:  | 6"/152 mm |
| Cylinder Capacity:  | 6 rounds |
| Sights: | Adjustable LPA rear sight, adjustable front sight |
| Trigger: | Adjustable, single/double action   |
| Grip: | Hogue Monogrip, synthetic rubber |
| Weight: | 57.2 oz/1621 g (with all weights included) |
| Price (MSRP): | 1562 USD (price may vary in your country) |