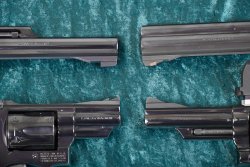 Only one rear sight for all S&W frames

The slot on the top of the frame for the rear sight is identical for all frame sizes. Thus, the rear sight of a S&W Model 17 in .22 LR can also be mounted on an X-Frame revolver in .460/.500 S&W Mag. Front sights can also be interchanged among models. But beware, because there are two variations: front sights that are pushed in or pinned in. Since both front sight bases and front sight slots are subject to tolerance, some sights require minor rework. It is interesting to note that many older models are currently rising sharply in price. A K-frame Model 19 with 6" is between 350 to 400 euros. A Model 27 in 6" or even 4" easily breaks the 500 euro barrier. Old M29 in the original barrel length with 6.5" climb up to 800 to 1100 euro, depending on the condition.
Installing optics
If an optic is to be installed, a model after 1994 would be advantageous. The year is considered a watershed, because now every model except J-frames was factory fitted with three threaded holes on the frame top strap ("drill and tap frame"). Earlier models can, of course, be retrofitted by a gunsmith. 
Cylinder releases, weights, trigger tuning
Those who find the cylinder release too small can retrofit larger versions. These extended latches with enlarged actuating surface are standard equipment on PPC 1500 and IPSC revolvers and make handling much easier. To tame recoil/muzzle flip, barrel weights made of aluminum or steel (depending on the desired weight size) can be retrofitted by a specialist on some models. A trigger tuning is often also part of the subsequent standard tuning work on a S&W revolver, whereby the spectrum here ranges from spring replacement to a completely new trigger assembly.
Grips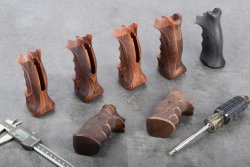 While the distinctive wooden tiger grip panels were fitted until the late 1980s, these fell victim to one-piece rubber grips with open backs for price reasons. Die-hard fans will be floored to hear that the above mentioned "Goncalo Alves" grips were "disposed of" by burning them at the factory. At some point, even the potential for savings reached a limit, however. The complaints piled up. Finally, S&W saw the light and changed the rubber grip design. 
New S&W revolvers have one-piece rubber grips that are closed on the back – they don't slip and dampen recoil properly. Unfortunately, these grips turn out a bit small. They are just about usable up to glove size nine. A change is recommended for larger hands. The range is lush and includes, for example, Pachmayr plastic grips reinforced with steel inserts, grips made of synthetic and natural materials from the US specialist Hogue, or checkered Nill wood grips from Germany. For those who shoot a lot in double action and have fingers that are too short, we recommend the Phil Hemphill model from Nill featuring an open back. 
The geometry allows you to grip the revolver much higher up and the trigger finger reaches further toward the trigger. This grip is available for K/L frames and since 2019 also for J-frames. The disadvantage with magnum loads is that the recoil goes directly into the palm. By the way, the grips for K/L frames in the round butt design also fit the Korth Super Sport.
Sights replacement: what you need to know about the rear and front sights on S&W revolvers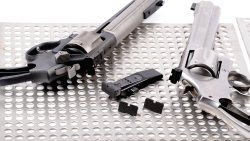 If you use your revolver for sporting purposes, you should remove the red plastic insert from the front sight. Some paint over this with matte black paint. If you focus on the red insert, you will always shoot too high because there is still a few tenths of a millimeter of steel between the top edge of the front sight and the insert. If this red insert was accidentally scorched when the sight was blackened, it is also advisable to remove it. Often seen is a reworked front sight for an optimal sight picture.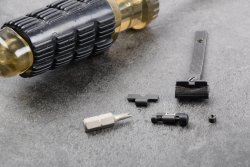 The well-known micrometer sight from S&W can be finely adjusted – no wonder with the thread used (6/48-60 UNC – the pitch is only 0.47 millimeters per turn). As accessories, there are rear sight blades with a white outline around the notch or also blank blades.
However, if you want to change the rear sight blade, you have to break the rear sight windage nut by turning the windage screw. Screw, nut and rear sight blade cost around 25 euros. For a fixed front sight, S&W offers three rear sight blades of different heights (.126" = 3.2 mm, .146" = 3.7 mm and .160" = 4.0 mm) at a price of 20 euro each. Many shooters prefer a wide rear sight blade with a deep U-notch. This can be quickly installed by the shooter without any rework. LPA has established itself as the market leader here. However, these rear sights build higher than the factory sights. Therefore, in order to be able to use the full adjustment range, a higher front sight should also be retrofitted.