The Mastershop at SIG Sauer in Eckernförde will now be well-known to most SIG Sauer-interested shooters. Here, in addition to pistols tailored to sporting requirements, exclusive pieces in small editions as well as custom-made products are created according to the customer's wishes. The Mastershop in Eckernförde is divided into 3 different sections: The "Mastershop Sport" deals with purely sports guns. Small pistol series with elegant design come from the "Mastershop Prestige". Shooters who like very personalized and exclusive firearms, turn to the "Mastershop Individual". Of course, the price always rises with the degree of personalization of the pistol, as noble guns involve elaborate work.

The P210 Midnight - the elegance of the night sky

The original version of the P210 already served as "Pistol 49" in the Swiss army, the Danish armed forces and the German Federal Border Guard. Today, the pistol is no longer common in government service, but this does not diminish the myth surrounding it: to this day, it enjoys the reputation of being one of the most accurate mass-produced guns on the market. SIG Sauer's Legend and Supertarget models are based on this tried and tested basic design. The latest addition to this pistol family is the Midnight version, which was presented at the last IWA 2019. it's an elaborately refined version of the legendary P210 pistol from the "Mastershop Prestige" line. The main difference to its sister models Legend and Supertarget is the exterior: here we find a surface coating in the form of a "piano finish" accentuated by gold-plated trigger, cock and screws. The trigger is reminiscent of the Moon, the golden screws of stars in the night sky. All in all, this design blends into an elegant and romantic overall picture that has been seldom seen before on pistols. The pistol is available in two versions: It comes with a 5-inch barrel and a slightly longer 6-inch barrel.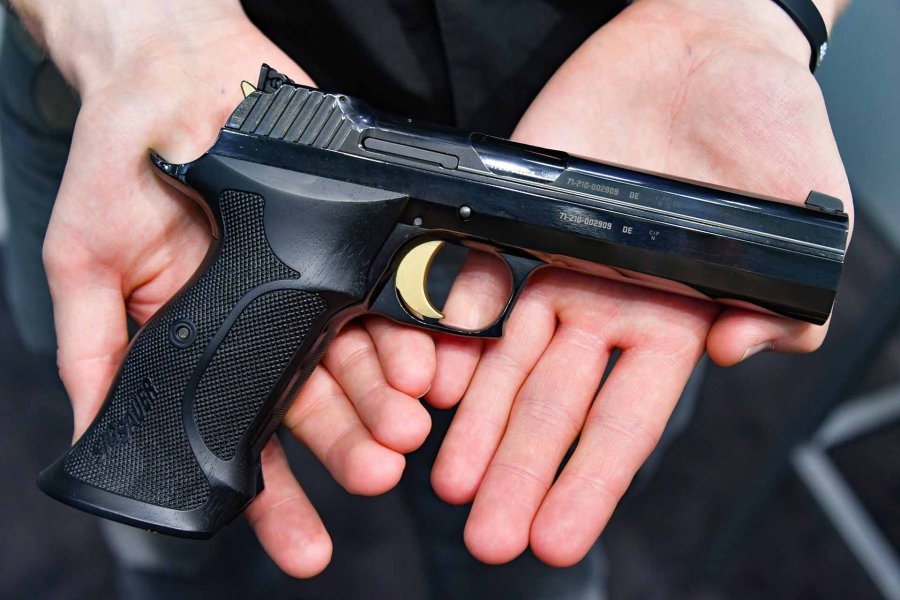 SIG-Sauer P210 Midnight - Prices and specs

| | | |
| --- | --- | --- |
| Model: | SIG Sauer P210 Midnight 5" | SIG Sauer P210 Midnight 6" |
| Price: | 3999 euro (prices may vary in your country due to VAT and import duties) | 44199 euro (prices may vary in your country due to VAT and import duties) |
| Caliber: | 9 Luger (9x19mm) | 9 Luger (9x19mm) |
| Magazine capacity: | 8 rounds  | 8 rounds  |
| Frame: | steel  | steel  |
| Barrel length: | 5" / 120 mm | 6" / 150 mm |
| Barrel grooves: | 6 | 6 |
| Sight radius: | 6.3" / 160 mm | 7.9" / 201 mm |
| Safety: | manual thumb safety  | manual thumb safety  |
| Trigger pull weight: | SA: 57.53 oz / 1631 g | SA: 57.53 oz / 1631 g |
| Total weight (incl. Magazine): | 41 oz / 1163 g | 43.7 oz / 1240 g |
| Dimensions (L x W x H): | 9 x 1.85 x 5.78 in (231 x 147 x 47 mm) | 10.07 x 1.85 x 5.78 in (256 x 147 x 47 mm) |