The SIG Sauer Mastershop is divided into the three lines: Sport, Prestige and Individual. From the Prestige line, the German company introduced a total of four new models at the IWA 2019 in Nuremberg. Based on the P226 pistol, the X-Five Performance and Facettes models were presented. The Skeleton and Midnight pistols, on the other hand, are based on the SIG Sauer P210. A novelty in the history of the Mastershop.

SIG Sauer P226 X-Five Performance and P226 Facettes

Based on the P226 pistol, SIG Sauer presented the new X-Five Performance and Facettes models. The name of the first model makes it easy to see what the focus was on during development. Various components such as the hammer, grip and trigger guard were laser-patterned with a special process to provide the optimum grip. In addition to this finish, the P226 X-Five Performance is also unequivocally recognizable as a P226 variant for serious sports use. The Performance model by SIG Sauer is available for 3799 euro.
Less sporty, but just as extraordinary, the P226 Facettes pistol. This pistol is characterized by its futuristic design. Inspired by the geometry of quartz crystals, there are triangular shapes on all components. These not only enhance the modern look, but can also felt to the touch. The P226 Facettes thus has a polygonal surface structure that makes it unmistakable. For this model the SIG Sauer Mastershop ask for a price of 4299 euro.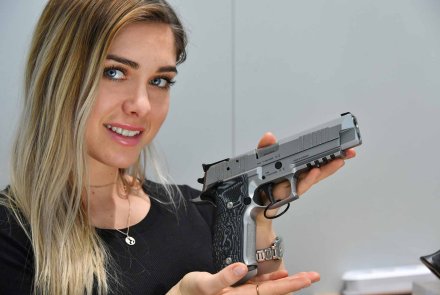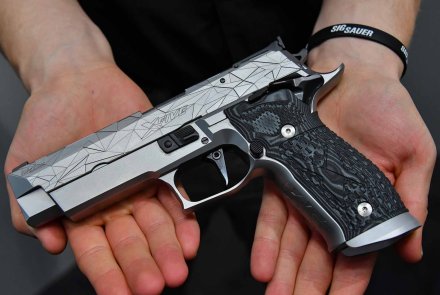 The Skeleton and Midnight models on P210 basis

The Skeleton and Midnight models are the first guns manufactured on the basis of the P210 pistol by the Mastershop. The Skeleton can be seen at first glance as a pistol for sports use. The straight match trigger and the heavily modified slide leave no doubt about the intended purpose of this handgun from SIG Sauer. Despite these changes, the Skeleton still remains a P210, making it one of the most accurate pistols on the market. For 4199 euro, the P210 Skeleton will change its owner.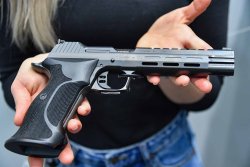 Franco Palamaro, © F.PALAMARO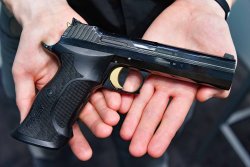 Franco Palamaro, © F.PALAMARO
Also on the P210 basis, they introduced the Midnight model. This is not a purebred sports pistol. True to its name, the finish of this gun is completely black. The noble character is underlined by golden accents. These include the trigger, the hammer and the grip screws. The P210 Midnight is available for the same price as its sports sibling, at 4199 euro.