Another certificate of merit for SIG Sauer's M18 pistol: the compact variant of the U.S. Army's Modular Handgun System (MHS) has successfully completed a recent Lot Acceptance Test (LAT) with zero stoppages during the required MHS Material Reliability Testing.  Lot Acceptance Testing usually include testing handguns to 5,000 rounds and allow for up to 12 stoppages to pass. "The recent MHS Material Reliability Test consisted of firing three M18 pistols to an unprecedented 12,000 rounds each, and in an extraordinary display of reliability, the M18 performed with zero stoppages," claims a SIG's press release.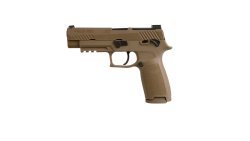 The M18 also passed a parts interchange test, met all of the stringent accuracy and dispersion requirements, was tested for firing pin indent and trigger pull measurements to ensure consistency, and conformed to all workmanship standards. Moreover, the recently published Director of Operation Testing and Evaluation (DOT&E) Annual Report, which provides an independent review and analysis of the U.S. Department of Defense weapons systems, states that, "the MHS meets or exceeds requirements for accuracy, lethality, ergonomics, and safety," stating that, "both the XM17 and the XM18 are operationally effective and suitable."  
SIG Sauer M17 and M18, "exceeding expectations"
Based on the P320 platform, back in 2017 the full-size M17 and the compact M18 9mm striker-fired pistols won the Modular Handgun System (MHS) contract (see here) and are being adopted by the US Army, Air Force, Navy, Marine Corps and Coast Guard. The MHS contract provides for the delivery of 480,000 pistols over a period of ten years. To date SIG Sauer has delivered over 20,000 pistols.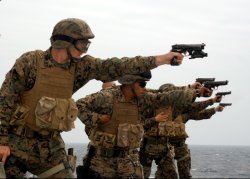 U.S. Marine Corps / Lance Cpl. Nathan Knapke
"For this testing the U.S. Army set very high standards for quality and performance, and at SIG we relish the opportunity to meet a challenge and exceed expectations," commented Ron Cohen, President & CEO of SIG Sauer, Inc. Adding that "the performance of the M18 not only surpassed the U.S. Army's testing requirements, its performance was simply outstanding and nothing short of perfection."
The P320-M17 is also available on the civilian market: find more info here.