After the US armed forces, the Danish military has just selected a version of the SIG Sauer P320 as issue sidearm. As announced on the Danish Ministry of Defense website, the P320 X-Carry will replace all the handguns in the Armed Forces such as the M/49 (the venerable SIG P210 manufactured under Danish military contract). The SIG Sauer P320 X-Carry is a 9x19mm polymer framed, striker fired gun.
Two versions will be purchased, a standard (full size) and a concealed carry version. From the pictures published by the Danish military, the "full size" version looks like a X-Carry with the addition of a P320 X-Five extended magwell (which is removable).
In fact, while the X-Carry holds 17 rounds, the Danes claim that their new guns will have a magazine capacity of 21 rounds – just like the P320 X-Five. It's therefore likely that the "concealed carry" version will be a "true" X-Carry model without magwell extension and the usual 17-round magazine.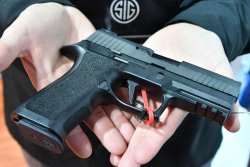 Besides the P320, other pistol were tested in a four-week trial period during 2017 under all conceivable conditions by users of the Special Operations, Military Police, Air Force and Army: the Beretta APX, the Canik TP9 and TP9SF, the Glock 17 and 19.
According to the Danish Ministry of Defense the SIG Sauer P320 X-Carry "performed best in the many tests that were part of the procurement process of new guns". 
The trial program included malfunction/accuracy tests and shooting in the dark. Drop tests, penetration tests and accuracy tests were also performed by experts from Direct Shooting Weapons (DSV) at HKIC, the Danish Army's Combat and Fire Support Center.
The P320 is expected to be delivered to all units by the end of 2019.