SIG Sauer has just announced a new addition to MPX series in the form of the ultra-compact MPX Copperhead. "Sub-compacting" firearms – whether they are pistols, revolvers, SMGs or rifles – seems to be all the rage in the last years, and a world famous manufacturer like SIG doesn't shy away from this trend: as Tom Taylor, Chief Marketing Officer and Executive Vice President, Commercial Sales, SIG SAUER, Inc., explains, "The MPX Copperhead considerably reduces the length, width, and size of the MPX platform making it the most compact addition to the MPX family of firearms." 
SIG Sauer MPX Copperhead, a compact package in 9mm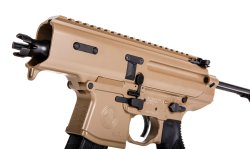 Introduced back in 2013 (we talked about it here at all4shooters), SIG Sauer's original MPX sub-machinegun had already shaken the gun world with its unique technical layout. Action is based on a short-stroke gas piston system that allows the SIG MPX to run any type of ammunition with no adjustments to the gas valve. According to the manufacturer, the fully-closed and locked rotating bolt offers enhanced reliability in use "with a new level of operator safety, in-field adaptability and proven reliability in the harshest environments." 
Completely ambidextrous with its dual-sided selector switch, magazine release, charging handle and bolt release, it also features AR-style controls for the happiness of the many shooters, LEO and military operators around the world who are already familiar with the AR platform. Above all, the SIG Sauer MPX embodies the concept of modularity under many points of view, including the quick-change components that allow the user to convert any MPX variant from 9x19mm to .40-Smith & Wesson and even .357-SIG for maximum operational versatility.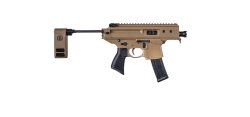 Chambered in 9mm Luger, with a total length of 14.5 in / 368 mm and a barrel length of 3.5 in / 89 mm, the new Copperhead version "is the perfect combination of the features and performance our consumers expect from a SIG MPX in a compact package" in Taylor's word. Weight is 4.5 lb / 2 kg.
Besides the monolithic Elite Series Cerakote finish upper receiver with integrated stock knuckle lower and an integrated muzzle brake, the MPX Copperhead sports the new SIG Sauer Pivoting Contour Brace (PCB). The PCB gives pistol users "a brace that easily adapts to the movement of the shooters arm with a patented swivel operation for perfect placement, and can be rapidly deployed".    
Suggested retail price is1835 USD and the new SIG SAUER MPX Copperhead is now shipping.
---
Read here about the SIG SAUER MPX Pistol Caliber Carbine on all4shooters.com
For more information about the MPX Copperhead please visit sigsauer.com.