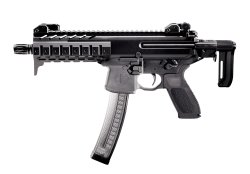 The SIG Sauer group never manufactured a sub-machine gun per se. The latest sub-machinegun to be manufactured by the SIG company in the Neuhausen factories, in Switzerland, was the Mp310; it was conceived and manufactured in the years immediately following the end of World War II, and as such it was engineered following the military doctrine of that era. It was a quite classic, now definitely outdated design, and was made following complex metalcrafting procedures that made it very expensive even for the day; the Mp310 went out of production in 1972 and, outside of Swiss military and Police use, its only commercial success were the modest sales to the Chilean government. A brand like SIG Sauer, now one of the mainstays of the global arms industry and a leader in weaponry and equipment for military, law enforcement and government purposes, couldn't keep itself out of the SMG market for much longer now.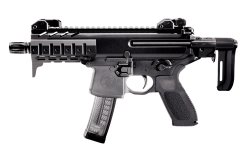 As a matter of fact, and despite the increasing popularity of compact and sub-compact assault rifles and Personal Defense Weapons chambered to fire proprietary high-velocity, high-penetration small calibers, standard sub-machineguns are still pretty much sought after by law enforcement agencies. In many Countries in the world − actually, in most of Europe − sub-machineguns are still commonly used as the standard Police patrol weapon issued in the number of one or two for each squad car, much like shotguns or semi-automatic carbines are issued to Police in the United States; furthermore, SWAT-like Police special intervention teams still mostly rely on sub-machineguns as their standard weapon, relying on the stopping power of conventional pistol rounds fired in accurate, controlled bursts against unarmored targets. The SIG Sauer group now provides an alternative for these demanding customers, in the form of the MPX modular, versatile, mission-configurable sub-mhacinegun system, developed and manufactured by the SIG Sauer North America branch, headquartered in Exeter (New Hampshire, USA).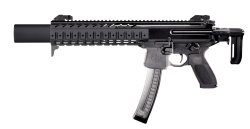 The MPX sub-machine gun system capitalizes most of SIG Sauer's experience in the manufacture of AR-15 variants − an experience that the company has been gaining in the past years, following the launch of their SIG-516 and M400 rifles and carbines, some of the world's best AR-15 based firearms up to date. The MPX sub-machine gun follows the AR-15 two receivers structure, as it features a reinforced polymer lower receiver and a machined aeronautics-grade aluminium alloy monolithic upper, held together by a passing pin located in front of the magazine well. The shape and the position of the polymer, ergonomic pistol grip, of the trigger group and guard, of the magazine well and magazine release button, of the hold-open release button, of the cocking lever and the three-position fire selector (featuring a safety position and allowing for semi-automatic fire or full-automatic discharge at a cyclic rate of 850 rounds per minute) are all patterned after the controls configuration found on AR-15, M-16 and M4 rifles and carbines, and on most of their derivatives; this will make easier and faster, for those military and Police operators who already have a specific training on AR-15 based firearms, to get accustomed with the SIG Sauer MPX. All controls on the MPX platform are ambidextrous, this meaning that can be readily used by left-handed shooters, or be fired by the left or right shoulder should the need arise (eg. to better exploit a cover position) without modifications.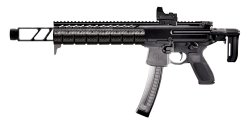 The SIG Sauer MPX sub-machinegun system comes without any kind of iron sights; instead, it features a long top MIL-STD-1913 "Picatinny" rail for backup foldable sights or optical devices, which will allow its users to equip it with any COTS/MOTS aiming system; three more Picatinny rails − located at 9 o'clock, 6 o'clock and 3 o'clock on the handguard and usually protected by a polymer shell − allow the use of tactical accessories at the shooter's will. What makes the SIG Sauer MPX sub-machinegun system stand out above all others is the working system: this is one of the world's very few gas-operated SMGs, featuring a rotating bolt and a short-stroke piston. Other features include a three-position collapsing metal stock that can be replaced with a side-folding polymer buttstock, and a quick-change caliber system that will allow field conversion from the native 9x19mm caliber (a.k.a. 9mm "Luger", 9mm "Parabellum" or 9mm NATO) to .40 Smith & Wesson or .357 SIG chamberings in a matter of seconds. 30-rounds translucent polymer magazines, available in all three calibers, are provided by the US-based Lancer Systems L/P company, already well known for its L5-AWM polymer STANAG 4179 magazines.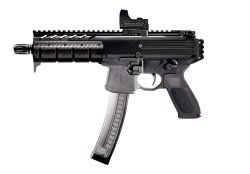 The SIG Sauer MPX sub-machinegun system can feature up to five configurations: the baseline MPX-T model can be up to 61 inches long overall, depending from the kind of stock used, and features a 6.5 inches barrel; the compact MPX-K variant can be up to 22 inches long overall, and sports a 4.5 inches barrel, which makes it perfect for concealed carry and undercover or VIP protection duties; the MPX-P is a variant of the baseline MPX-T, sporting the same 6.5" barrel but featuring an overall 13.3 inches lenght as it comes without a stock, and will be made available in both select-fire versions for MIL/LE sales and in a semi-automatic version for civilian sales. Last, the MPX-C and MPX-SD are the "long" variants of the system. They both feature a 6.5 inches barrel, a maximum overall lenght of 33" and either a collapsing or side-folding stock, but while the MPX-SD is a select-fire gun coming with an extremely effective integral silencer, the MPX-C is a semi-automatic only variant conceived for civilian sales and sporting purposes, and comes equipped with a large flash suppressor. The SIG Sauer MPX sub-machineguns are available worldwide to military, police and government customers only through the authorized SIG Sauer dealers and handlers, while global distribution for the civilian-grade, semi-automatic variants is yet to begin: the manufacturer's suggested retail price for both the MPX-C semi-automatic carbine and the MPX-P semi-automatic pistol tops 2.199,00US$ in the United States.