The history of the original P210 is pretty long and glorious, dating back to the 1940s. And even if it did not participate in any major conflict having being adopted by the Swiss and Danish armies, it is still considered one of the most refined and accurate service pistols ever.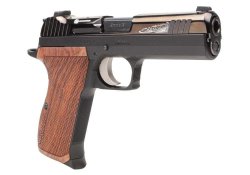 After the introduction of a modernized iteration named P210 Carry in 2022 featuring a lighter alloy frame and a shortened slide optimized for EDC use, it did not take long before the guys at SIG Sauer's Custom Works took care of the model. 
And if the P210 Carry was already "developed to deliver a balanced and refined shooting experience in an everyday pistol", the new P210 Carry Custom Works limited edition adds a further touch of elegance and sophistication.
P210 Carry Custom Works, the "gentlemen's carry gun"
From a mechanical standpoint, nothing has changed: it's still a 9mm pistol with an alloy frame, stainless steel slide frame and single action trigger. But the P210 Carry Custom Works edition boasts some exclusive features that distinguish it from the standard P210 Carry model at a glance. First of all, instead of black Hogue G10 grips, we have here warm-toned checkered Caribbean Rosewood custom grips. The custom high polished slide has contrasting engraved scrollwork on the top and on the sides. Moreover, the trigger received an E-nickel coating. And even if you and also find them on the standard P210 Carry, the Siglite night sights are nonetheless the proverbial icing on the cake.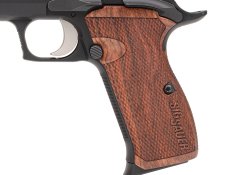 Another difference, the P210 Carry Custom Works comes with three 8-round steel magazines instead of the normal two, in a lockable Custom Works case together with challenge coin and certificate of authenticity. 
Price has not been communicated: considering that the standard P210 Carry has an MSRP of $1300, you'll have to pay a premium for the exclusive Custom Works features though. But please take note: the P210 Carry Custom Works will be available for a short amount of time only. So if interested, you'd better be quick.