Travis Tomasie is a multiple world and national  IPSC and USPSA champion. He is an Army veteran and former member of the US Army Marksmanship Unit. He has founded his own training academy in Huntsville, Alabama, where he teaches competitive and self-defense shooting for beginners as well as military and law enforcement. One of the most dynamic and engaging teachers in the industry, Travis Tomasie has coached and mentored many of today's top shooters to remarkable success, including numerous national championship victories.
Recently, Travis was called upon by Masterpiece Arms, an American company that specializes in premium rifles, to create a competition pistol at the top of today's technical possibilities. Thus was born the DS40 TT Comp, an IPSC super-gun chambered in .40 S&W.
"I'm proud to have partnered with MPA in developing a truly remarkable competition pistol. Built to my specifications and combining superior components with precision craftsmanship, the DS40 TT Comp Pistol is ready to race right out of the box," Tomasie said.
Masterpiece Arms DS40 TT Comp: a new double stack frame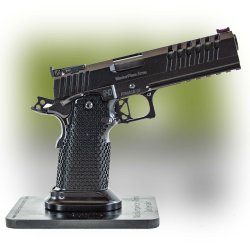 Specific features of the Masterpiece Arms SD40 TT Comp, ideal for the USPSA Limited Division and built on a proprietary frame developed by MPA, include aggressive texturing on the MPA grip, which helps shooters maintain a firm grip during fast-paced competition. The slide features classic dovetail cuts for the rear and front sights, with a fully windage and elevation micrometrically adjustable Bomar-style rear sight as standard. The front sight has a red fiber optic insert. The competition magwell for 140mm or larger magazines incorporates a self-centering radius funnel design that makes for faster magazine changes. Two 140mm .40 S&W MBX double stack magazines come with the pistol.

All parts on the MPA DS40 TT Comp pistol are machined in the USA from barstock and billet so there are no MOM, castings or fogings. MPA machined parts include the full-length steel frame, 416R stainless steel barrel, bavertail/grip safety and ambidextrous safety, slide stop, firing pin stop, ejector, magwell – all stainless parts – and the main frame section, which is black anodized 7075 aluminum.

The DS40 TT Comp Pistol includes a Koenig hammer/sear/disconnector set, Wolff springs, a custom machined aluminum trigger shoe, and a one-piece stainless guide rod. The trigger pull weight as it comes from the factory is 2 lb 6 oz – 2 lb 10 oz (around 1200 grams), but is expected to relax to 2 lb (about 900 g) after a short break-in. The stainless steel barrel has the usual length of 5 inches, or 127 mm.
The slide lightening cuts at he front of the FGW slide create less reciprocating mass, making cycling faster.
Each pistol is hand-built, including lapping the slide/frame interface, and comes competition-ready in a custom MPA single pistol case with a lifetime warranty. Retail price for the US-made MPA DS40 TT Comp pistol is $2999.