What happens if you combine eagles and tigers? Nothing that makes sense if you're a zoologist. But if you are a big guns lover, the result will be another amazing version of the already striking Desert Eagle pistol. Magnum Research has in fact just introduced the "White Tiger" Desert Eagle.  
The manufacturer had impressed Desert Eagle fans with the Gold Titanium and Black tiger striped models in the recent past. Available in .44 Magnum (DE44WTS) or .50 Action Express (DE50WTS) calibers, the new addition to the custom "Tiger Stripe" series now features a "White Tiger" finish created by alternating a pattern of matte and high polish stripes. Slide and frame are stainless steel, while the 6" stainless barrel sports an integrated muzzle brake.
White Tiger Desert Eagle, a "pinnacle of style, power and accuracy"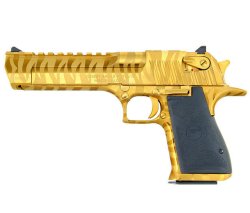 Like it siblings, the new White Tiger Stripe model belongs to the latest Mark XIX Series (see here for more info). Mechanically speaking, they are gas-operated guns with a rotating lug locking mechanism. The integrated muzzle brake is intended to improve the pistol's firing behavior by reducing muzzle rise and recoil.  For this reason there are four elongated, oval serrations on both sides of the barrel front section.
The .50AE version comes with a 7-round magazine and the .44 Magnum one comes with an 8-round magazine. MSRP is the same for both caliber models, at 2254 USD (prices in the European market can vary due to VAT and other taxes). Desert Eagle pistols are proudly made in the USA.
The new tiger-striped version enhances the already legendary status of the Desert Eagle. According to the manufacturer, the White Tiger Stripe Desert Eagle offers shooters "another custom finish option for the powerful and accurate Desert Eagle magnum autoloader" actually representing "the pinnacle of style, power and accuracy in a semi-automatic handgun".