First it was the Israeli IMI Jericho 941, then came the Baby Eagle. Now, the Babe Eagle III is back: Magnum Research announces the return of these pistols to the market. As Joby Goerges, Director of Manufacturing and Engineering with Magnum Research, explains, the Baby Eagle "...continues to be in high demand, and is very popular with fans. It is well known from appearances in popular movies, television shows, and video games. This gives the Baby Eagle a huge fan base, and in particular feeds big demand amongst younger shooters." Its ancestor, the Jericho pistol, was actually received in the 1980s by fans with some excitement, and the Baby Eagle III series is the latest revision of the Magnum Research imported handgun, manufactured in Israel by BUL Transmark. 
Baby Eagle III, full size or semi compact, steel-framed or polymer-framed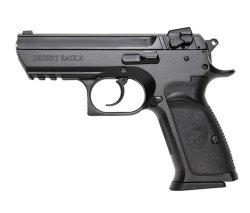 Despite its evocative name and some aesthetic features, the Baby Eagle is not a scaled down Desert Eagle as some could think. It's in fact a more conventional short-recoil, double-stack frame semi-auto pistol strongly inspired to the excellent Czech CZ-75. Magnum Research offers both steel and polymer-framed options. The III series steel frame guns feature the slimmest grip ever offered on a Baby Eagle handgun and are chambered in 9mm and .45 ACP. Polymer framed models will also be available in 9mm and 40 S&W. Full and semi-compact sizes are available for both the steel and polymer-framed versions.
Thanks to a full length dust cover and weight – especially of the full size steel guns – the Baby Eagle is very soft shooting. Moreover, high precision modern machinery is used to make these guns, ensuring better accuracy.
The full size model has a 4.43" barrel, while the semi-compact barrel is 3.85" long. The Baby Eagles provides 15 rounds in 9mm, 12 in 4 S&W, and 10 in .45 ACP and there is no difference between full size and semi compact as regards magazine capacity. MSRP is 646 USD for the polymer-framed models and 691 USD for the carbon steel versions – prices are the same for full size and compact size pistols.