In 1981, Gaston Glock submitted the first model of his newly developed polymer-frames pistol for testing by the Austrian Army. The pistol was fully convincing and was introduced as the P80. This event – the beginning of the worldwide Glock success story and also of polymer pistols in general – celebrated its fortieth anniversary. To mark the occasion, the Austrian gun manufacturer has resurrected the legendary early Glock. We took a closer look at the gun.
Overview: this is the Glock P80 – differences to the G17 explained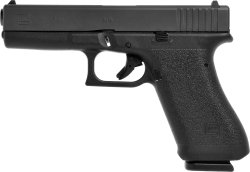 GLOCK Ges.m.b.H., © GLOCK Ges.m.b.H.
Basically, the P80 is a 9mm Luger pistol of the first generation (GEN1) from Glock. It corresponds to the Glock 17 model sold in the civilian market. However, forty years later, the P80 differs a few things from the G17 available today. First of all, it should be noted that the P80 is not a replica gun, since it comes from the original manufacturer with the same features as the pistol at that time. Accordingly, one can rather speak of a new production.
At first sight of the pistol, the GEN1 grip naturally catches the eye. Not only does it come without a rail (which was not available until GEN3), but it also comes with a relatively pleasing, but less grippy grip texture. In addition, the now obligatory thumb recess is missing, as are interchangeable backstraps. Another feature is the single pin above the trigger, which was replaced by two for generations 2, 3 and 4. The single pin design did not return until the current fifth generation. Similarly, the finger grooves on the front of the gun – again, the design of the GEN1-P80 is similar to the current GEN5. 
However, there are some differences between the original P80 and the current P80. For the surface finish, for example, Glock did not opt for the original Tenifer coating, but for the more modern nDLC finish.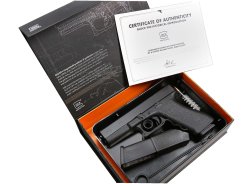 Limited Glock P80 in exclusive bundle
As befits its status, the Glock P80, which is limited to a short production period, is of course not delivered in a plastic case like its 5th generation siblings. Instead, the buyer gets a nice cardboard box with a magnetic closure. Inside, in addition to the instruction manual and a certificate of authenticity signed by Gaston Glock, there is also the well-known "Tupperware Box", a plastic box for storing the gun. In addition to the P80, it also contains two magazines, a loading aid, a cleaning rod and a sights adjustment tool. The exclusive bundle is available for an MSRP of 1,150 euros from well-stocked retailers.
all4shooters.com will of course also publish a full test of the P80 in the near future.