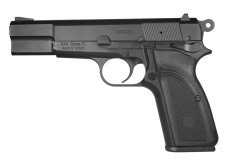 All gun fans should be already familiar with the Hi-Power, aka HP 35 or GP (Grande Puissance, "high power" in French): it's a a single-action, semi-automatic handgun originally designed as a military pistol by the legendary John M. Browning and then completed by Dieudonné Saive at Fabrique Nationale (FN) of Herstal, Belgium, in the early 1930s. 
One of the most influential designs in the history of handguns, in its various iterations the Hi-Power was adopted by several armies around the world. During WW2 it was particularly appreciated not just by the British and Canadian forces, but even by the Germans, who make FN manufacture the gun in the occupied Belgium under the designation "9mm Pistole 640(b).    
The civilian market also absorbed many Hi-Powers over the years, so that FN discontinued production only in 2017. More or less exact clones, however, continued to be manufactured in countries like Philippines, Hungary and, lastly, Turkey of course.    
Girsan MC P35, "Made with serious respect for the original"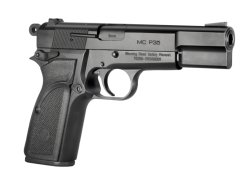 EAA Corp., importers of select quality and affordable handguns, rifles, and shotguns, is now distributing the Girsan MC P35 in the US too. "Made with serious respect for the original Browning Hi-Power pistol design, EAA's MC P35 pays homage to one of the most widely used military handguns in the world, with its classic styling," they say at EAA. 
Like the archetype, the "Turkish Hi-Power" features a steel frame and slide in a black matte finish, and the staggered column magazine with a capacity of 15+1 rounds that already made the original HP 35 famous back then. Caliber is the classic 9mm Luger. Barrel is 4 5/8", and sights include a windage-adjustable rear sight coupled to a dovetail front sight. Extractor is external, and controls include the ambidextrous safety and the magazine release. A magazine disconnect safety is also present.
The iconic design brought back by EAA and Girsan has an MSRP of $528 in the US. At the time of this writing it is not yet known whether the MC P35 will also be distributed in Europe.
Girsan MC P35 specs and price
| | |
| --- | --- |
| Caliber: | 9mm Luger                |
| Type: | Semi-automatic pistol |
| Overall Length: | 7.75"/197 mm |
| Barrel Length:  | 4.87"/123 mm |
| Weight:  | 1.8 lb/816 g |
| Magazine Capacity:  | 15+1 rounds                   |
| Finish:  | Black   |
| Price (MSRP in the US): | 528 USD |