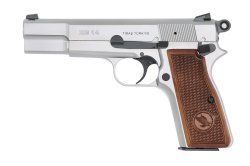 Some of us here at all4shooters are old-timey gun fans who still consider with a barely concealed bit of horror modern things such as polymer frames and Picatinny rails. So, even if we know that things have changed in the last 30-40 years, knowing that somewhere handguns are still manufactured the old-fashioned way warms our heart. This is the case of the 9mm ZIG 14, a Turkish-made copy of the venerable Browning HP35.
The Browning HP35 was one of the first successful double-stack 9mm pistols and was produced from 1935 to 2017. The original design of the gun is the work of John Moses Browning himself, and after his death in 1926, the project was completed and perfected by Dieudonne Saive. Initially proposed to the French army, that never adopted it, the HP35 quickly became the issue sidearm in over 50 countries including Great Britain, Canada, Australia, Belgium and over a million were made.
Manufacturing by Browning stopped about two years ago, but like many other iconic objects the HP35 returned to the spotlight, and this is thanks to the Turkish Tisas company that produces a clone called Zigana 14, or ZIG 14, available in blued or stainless steel versions. (Actually, Tisas also manufactures 1911 and Beretta-type clones, among the others, in calibers ranging from 9mm to .45 ACP, .380 and 7.65mm.)
ZIG 14 in special versions
The ZIG 14 features a 15-shot magazine, dovetail sights on the slide and single action trigger. The barrel is 4.6" / 118 mm long. The ZIG 14 will surely appeal to those who love old-fashioned guns, being entirely made of steel and with wood grips.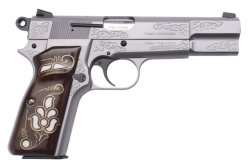 Tisas itself, on its website (www.trabzonsilah.com), seems to focus very much on the nostalgia effect and proposes special versions of the ZIG 14 with gold inlays and inlaid grips at the proud price of 7500 Turkish Liras (about 1200 euro). The manufacturer's recommended price for a standard blued ZIG 14 is 3100 Turkish Liras, or around 490 euro. Judging from the images, these Turkish HP35s looks pretty nice and true to the original: we'd like to see one of them in the flesh, anyway.
If you're interested, the company claims that its products are offered in "almost 30 countries in 7 continents from the United States of America to Pakistan, from Azerbaijan to Philippines and from South Africa to Costa Rica". But to know if you can find the ZIG 14 in your country you'll probably have to contact the manufacturer...